Each Monday during the college football season, NFL Media draft analyst Daniel Jeremiah identifies five things that are chugging along smoothly and five things that are off the rails.
Lee played through a painful shin injury and helped lead the Trojans to a 20-17 win over Stanford. Lee finished the game with six catches for 82 yards. He had an impressive toe-tapping two-point conversion in the first half but he saved his biggest play for the final quarter. USC interim head Coach Ed Orgeron decided to go for it on fourth-and-2 with just a few minutes left on the clock. Lee beat his man on a quick slant and made a tough catch in traffic to pick up 13 yards. Lee has been banged up for most of the season, but he is still one of the elite weapons in college football.
2. Georgia QB Aaron Murray
Georgia suffered a gut-wrenching loss at Auburn but it wasn't because of the play of its quarterback. Murray put on an impressive display of accuracy, mobility and toughness. He completed 33 of 49 passes for 415 yards and two touchdowns. He also rushed for two TDs, including a gutsy 5-yard score with less than two minutes remaining in the game. That score put the Bulldogs ahead, after trailing by 20 points earlier in the fourth quarter. Unfortunately for Murray, his defense was unable to knock down a desperation pass with under a minute to play and Georgia lost the game, 43-38.
Week 12: Things we learned From Auburn's miraculous victory over Georgia to Jordan Matthews' continued assault on SEC defenses, here are the lessons we learned in Week 12 of college football. **More ...**
Bortles has played consistent, efficient football during the 2013 season and NFL evaluators are taking notice. The junior signal-caller put on a show against Temple on Saturday. He completed 27 of 38 passes for 404 yards and four touchdowns. He also showed off his mobility, racking up 63 rushing yards. The Knights found themselves trailing an inferior Temple squad late in the fourth quarter. That's when Bortles took over the game. He tossed a touchdown and led a field goal drive in the final two minutes to lead UCF to a 39-36 victory.
4. Ohio State LB Ryan Shazier
Shazier is one of the most explosive defenders in the country and his production has been outstanding. Against Illinois on Saturday, the Buckeyes' star linebacker stuffed the stat sheet. He recorded 16 tackles, 3.5 tackles for loss, 1.5 sacks and forced a fumble. Illinois was threatening a comeback in the second half, but Shazier put an end to that quest by collecting a sack and forcing a fumble that resulted in a safety. His play reminds me of Arizona Cardinals linebacker Daryl Washington.
5. Oklahoma State CB Justin Gilbert
NFL evaluators are always looking for tall, athletic cornerbacks with ball skills. That's a pretty accurate description of Gilbert. The Cowboys' senior cover man has enjoyed a phenomenal 2013 season. He came into the game against Texas having already recorded four interceptions and he added to that total on Saturday night. He finished the game with nine tackles and two interceptions, one of which he returned 43 yards for a score. His stock is soaring in NFL circles.
Week 12: Top RB performances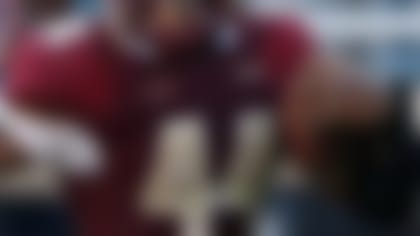 Boston College's Andre Williams racked up 339 yards Saturday, but it wasn't enough to earn the top spot on our list of the top 10 RB performances of the weekend. **More ...**
1. Stanford QB Kevin Hogan
Hogan put together a very solid outing in the Stanford victory over Oregon, but he failed to sustain that momentum against USC. Hogan completed 14 of 25 passes for 127 yards and he tossed two costly interceptions. His first interception occurred in the red zone and was the result of a poor read. His second interception was the result of the Stanford signal-caller trying to make a play instead of taking a sack. He threw the ball into a crowd of Trojans and that pick led to the game-winning field goal.
2. Ohio State QB Braxton Miller
Miller had an outstanding game running the football against Illinois. He racked up 184 yards on 16 carries, including a 70-yard score on the Buckeyes' third play from scrimmage. His passing, however, still needs quite a bit of work. He tossed two touchdowns but he completed less than 50 percent of his throws (13 for 29) and he misfired to several wide-open Ohio State receivers. He really needs to work on his touch on underneath and intermediate balls. He throws nothing but fastballs and his placement is poor. His upside is sky-high but he has a long way to go before he's a reliable pocket passer.
3. West Virginia head coach Dana Holgorsen
It wasn't that long ago that Holgorsen had the reputation as one of the nation's premier offensive minds. He was destined to take over a powerhouse college program, or perhaps even try his hand at the NFL level. We're not hearing those same sentiments anymore. On Saturday, West Virginia suffered an embarrassing loss at Kansas. The Mountaineers produced just 19 points against a Jayhawks squad that had lost 27 straight Big 12 games. In 2011, West Virginia went 10-3 in Holgorsen's first year as head coach. The Mountaineers have a combined record of just 11-13 over the last two seasons, though.
4. Washington QB Keith Price (injury)
Price was having a solid night against UCLA before he suffered a right shoulder injury just before the end of the first half. He had completed 10 of 18 passes for 181 yards and one touchdown. An MRI revealed a lot of swelling in his throwing shoulder, Washington coach Steve Sarkisian said Sunday, according to the Seattle Times, and Price won't throw again until Thursday. His lack of size and arm strength will limit his attractiveness to pro teams, but I've always admired his toughness and playmaking skills at the collegiate level.
Indiana's football program has been competitive this fall. The Hoosiers have defeated Penn State and Illinois. They came close to knocking off a solid Minnesota squad a few weeks ago. Unfortunately, they weren't very competitive against Wisconsin on Saturday. The Badgers' running game received very little resistance from the Hoosiers' front seven, racking up 554 rushing yards. They put up 323 rushing yards in the first half alone! They had five rushing touchdowns that covered 30-plus yards, including a 93-yard score in the first two minutes of the game. The Badgers produced three 100-yard rushers and came close to adding a fourth (WR Jared Abbrederis rushed for 86 yards on just three carries).