Patrick Mahomes has been pretty much unstoppable since taking over as the Kansas City Chiefs' starting quarterback in 2018. The outlier of outliers, Mahomes generated +694.0 expected points added (EPA) on his dropbacks over the past five seasons, more than double the next-closest player. When it comes to quarterback tiers, there is Mahomes ... and then there is everyone else. In head-to-head matchups with the merely elite quarterbacks in the next rung down, he has notched a victory against almost every one of them. Tom Brady. Josh Allen. Justin Herbert. Lamar Jackson. Trevor Lawrence. Dak Prescott. But there is one glaring omission from that list.
Now, Mahomes has been as efficient as any quarterback when playing in structure this season, posting a league-high 53.9 percent success rate from inside the tackle box. But his ability to extend and create plays out of nothing has always been his superpower. Take away his mobility, and Mahomes no longer occupies a perch head and shoulders above everyone else; he drops to being a merely elite quarterback.
Mahomes was noticeably limited after his injury in the first quarter in the Divisional Round. He traveled almost half the distance from snap to pass after the injury (averaging 4.1 yards scramble yards per dropback) compared to before the injury (8.0 yards) and was constrained to operating within the pocket. Mahomes is one of the best quarterbacks we have ever seen throwing off platform, but he simply was not in the shape to make those throws post-injury last week. He started the game with five of his first 12 pass attempts coming when he was traveling at least 8 mph, but had just one such attempt on his final 18 throws.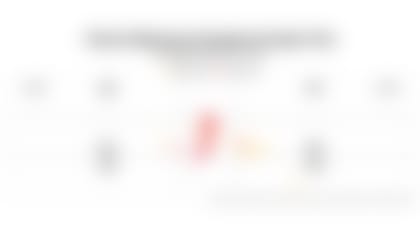 While Mahomes should be more comfortable with a week of treatment, a high ankle sprain typically takes weeks to recover from -- and the ominous risk of a more severe injury looms large. As such, it is likely that Andy Reid and the Chiefs will design a game plan that gets the ball out of Mahomes' hands quickly and minimizes the stress on his ankle. Mahomes also suffered a high ankle sprain in Week 1 of 2019, although it was to his left (non-planting) ankle. On the very next Sunday, he torched a porous Raiders defense for 443 yards and four touchdown passes -- but given the quality of the opponent, that production should be taken with a grain of salt. The more important takeaway from that game is that Mahomes threw a career-low 4.5 percent of his passes on the run and averaged just 4.9 scramble yards per dropback (fourth-lowest). His time to throw was 2.59 seconds, almost a third of a second quicker than his career average (2.88 seconds).
In the likely case that the Chiefs do embrace the quick game to protect Mahomes, they certainly have enjoyed past success in doing so. Mahomes led the NFL in success rate (58.4 percent) and passing EPA (+94.6, the only QB over 70) on passes taking under 2.5 seconds this season. Unfortunately for Kansas City, Cincinnati was a brick wall against quick passes this season. At first glance, it could make sense for the Chiefs to lean into the run game and take the load off Mahomes. However, K.C.'s offense has been significantly more efficient rushing this season when Mahomes lines up under center, rather than out of the shotgun. In order to minimize the stress on Mahomes' ankle, the Chiefs will probably stick him in the 'gun and limit his movement per play. No matter how you split it, the offense will be more one-dimensional. And if anyone can take advantage of that, it is Bengals defensive coordinator Lou Anarumo.
Anarumo has developed into one of the premier defensive minds in the league over the last two seasons. His in-game adjustments have stifled opposing offenses, including Kansas City's attack during last year's AFC title game, when the Bengals flooded throwing windows and held the Chiefs to just three points after halftime, allowing Cincy to complete an 18-point comeback. Coming out of halftime, the Bengals have recorded the fourth-highest defensive success rate (59.4 percent) against the pass over the last two seasons (including playoffs).
Anarumo, even more so than Burrow and the Bengals' explosive playmakers, has been the driving force behind Cincinnati's three-game win streak against Mahomes. Out of 92 career starts (including the postseason), all three of Mahomes' performances vs. Anarumo-coached defenses have ranked in the bottom half by passing EPA. In each of those games, Mahomes has averaged a time to throw over 3 seconds.
Table inside Article

| Mahomes vs. Anarumo | Time to throw | Career rank | Pass EPA | Career rank |
| --- | --- | --- | --- | --- |
| Week 17, 2021 | 3.11 seconds | 15th-longest | +9.0 | 46th |
| 2021 AFC title game | 3.03 seconds | 24th-longest | -8.5 | 88th |
| Week 13, 2022 | 3.21 seconds | 7th-longest | +0.9 | 72nd |
By implementing disguises and dropping extra defenders into coverage, Anarumo slows down opposing quarterbacks. The Bengals have faced an average time to throw of 2.87 seconds since 2021 (including playoffs), which ranks fourth-longest in the league. This is exactly what the Chiefs will want to avoid on Sunday: The more time Mahomes holds onto the ball, the more opportunity Trey Hendrickson and Co. will have to get home. Without the threat of Mahomes scrambling out of the pocket, the Bengals' pass rushers will have to worry less about maintaining rush-lane integrity and playing contain; instead, they can just focus on getting pressure.
Another way Anarumo could take advantage of a hobbled Mahomes is by leaning more into man coverage. Taking the coverage unit's eyes off of Mahomes becomes much more palpable when he lacks the ability to pick up first downs with his legs. The Bengals have been excellent in man coverage this season, earning the third-highest defensive success rate (64.1 percent, including the playoffs). In last week's 27-10 win over the Bills in Buffalo, the Bengals played man coverage on all six third-down dropbacks in the first three quarters before the game got out of hand. The result? They allowed just one completion and first down. Assuming Cincy has a plan to bracket tight end Travis Kelce, the Bengals' secondary should have a marked advantage over the Chiefs' star-free receiving corps if they elect to man-up.
Suffice to say, Mahomes will face one of the toughest tests of his career on Sunday. While Mahomes could still be the best quarterback in the league even at 80-to-90 percent, the Bengals' defense is designed to take away the easy throws that the Chiefs will look to emphasize. Reid and Mahomes will be forced to play with a handicap, and the chess game between them and Anarumo will be fascinating to watch.