At 5-foot-7, Purdue wide receiver Rondale Moore is on the small side, but NFL teams would be making a big mistake by selling this freak athlete short
By Chase Goodbread | March 22, 2021
JaMarcus Shephard's tongue was too tied to answer. The Purdue wide receivers coach had just opened a crucial recruiting relationship with a prime target by asking bluntly about one of his concerns:
"How big are you, really?"
The question had dogged Rondale Moore many times before, but with Shephard, the 5-foot-7 dynamo juked it as easily as so many would-be tacklers. Planting his foot and changing direction with just four words, he retorted: "How big is fast?"
Shephard doesn't recall what he offered for a comeback, but he fumbled for the right one, then smiled before his next words. The confidence Moore exuded with the turnabout left Shephard wanting the four-star recruit even more. And as he would later learn, Moore's brand of fast couldn't be any bigger.
Moore's well-documented 4.33-second 40-yard dash and an array of highly graded skills for receiving, rushing and returning made him one of college football's most exciting players. He combines freakish athleticism with a maniacal work ethic and an intense focus that borders on robotic. He'll tempt NFL general managers looking for all-purpose electricity from the slot position -- think Tyreek Hill -- and a sterling off-field reputation. NFL evaluators most familiar with Purdue's redshirt sophomore are convinced his performance both in physical testing and personal interviews will affirm his reputation as one of the 2021 draft's elite athletes.
And why shouldn't it? He's only been told he's too short; it's never been proven.
"When people ask the (height) question, for me it's like, 'You have the film, you can see what I can do. If it scares you that much, then cool. Pass on me.' " RONDALE MOORE
"It's really not a chip on my shoulder," he said. "I don't think of it that way, because I'm having the time of my life. When people ask the (height) question, for me it's like, 'You have the film, you can see what I can do. If it scares you that much, then cool. Pass on me.' "
Ever since Moore proved to Shephard with his play that speed, indeed, can render size concerns moot, the Boilermakers coach has resolved to take a second look at undersized wide receiver recruits anytime he's tempted to dismiss one for being too short.
"As big," Shephard said, "as he needs it to be."
---
---
Just how much of Moore's athleticism comes naturally and how much of it is self-made by a grueling workout regimen is debatable. Convincing evidence for either argument abounds, but there is little debate on this: Moore's testing in NFL combine events foretold a spectacular pro day.
Conservative estimates by his personal trainer, Chris Vaughn, place his vertical jump at more than 40 inches, his broad jump at 11-plus feet, and reps in the 225-pound bench press test at more than 20. Only one player at the 2020 combine, Southern Illinois safety Jeremy Chinn, crested all three of those benchmarks, and the Carolina Panthers' second-round pick also ran a 4.45-second 40-yard dash.
Moore could run well under that.
"He's so fast, if he runs in the 4.3s, I might be semi-disappointed," said Vaughn, a former Louisville wide receiver who spent a brief stint with the New Orleans Saints in 2009. "We're going to shoot for the stars -- the 4.2s."
Vaughn calls Moore the best athlete of the more than 160 he's trained. Moore was such a dominant youth player in his hometown of New Albany, Indiana, officials installed an informal mercy rule just for him. As a running quarterback, he would score so many rushing touchdowns that when games got too far out of hand, the referee would inform Moore's coach that his QB could only throw or hand off for the balance of the game.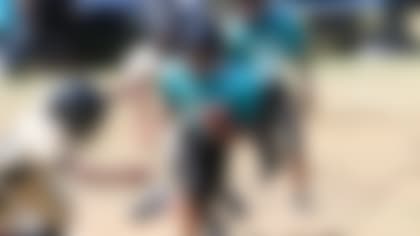 By age 10, he was doing backflips a dozen at a time, making the family wonder if gymnastics was his true calling. A few years later, he would be a dominant middle school wrestler, and was dunking basketballs in high school.
The spring before his senior year at Louisville's Trinity High, he clocked a laser-timed 4.33-second 40 at the Nike Opening event in Chicago, which sparked a deluge of scholarship offers from powerhouse programs like Alabama and Ohio State.
Crediting the athlete Moore has become to simple genetics, however, sells his sacrifice short. Genetics don't make middle schoolers rip off 200 pushups a day, as Moore did, or catch 500 balls from a Jugs machine on days when Purdue players were supposed to take off from training. Genetics weren't what allowed a 180-pound Moore to squat 600 pounds just five weeks after his arrival at Purdue as a freshman. No, the makings of that feat were forged with countless hours in the gym. Indeed, just a year earlier and 10 pounds lighter, he was squatting 530 to far less fanfare in the Trinity High weight room.
Moore began occasionally training with Vaughn, at least informally, as far back as middle school. But once he reached high school, determined to earn a college athletic scholarship, he started training with Vaughn on a regular basis. He was aware Vaughn had trained many of the top high school athletes around Louisville, including Cleveland Browns WR Taywan Taylor, and began putting himself through exhaustive, grueling workouts.
"He's an elite athlete who always showed up 20 minutes early, with his shoes tied, ready to work. He could lift with our linemen and outrun all our skill guys." DOMENIC RENO
On the night Moore received the Paul Hornung Award as college football's most versatile player -- he was the first true freshman ever to win the honor -- Vaughn all but had to kick him out of a training session so he wouldn't be late to a banquet for 600 held in his honor. The Hornung Award is presented in Louisville, the late Hall of Famer's hometown, so Moore only needed to hop in his car for a short drive to get there. After winning Hornung's high school award as the top prep player in Kentucky the year before, he at least knew the way.
"He made it," Vaughn said. "But he wasn't going to cut a workout short."
Perhaps no NFL team will have a better insight into Moore's athletic prowess than the Los Angeles Rams, as their new head strength coach, Justin Lovett, held the same role at Purdue during Moore's first two years in the program. Lovett witnessed Moore's 600-pound squat firsthand and has an insider's knowledge of both his physical capabilities and his work ethic. Current Boilermakers strength coach Domenic Reno took over for Lovett earlier this year.
"(Lovett) saw the same things in him that we all saw," Reno said. "He's an elite athlete who always showed up 20 minutes early, with his shoes tied, ready to work. He could lift with our linemen and outrun all our skill guys. Just a special, special player."