Of the 10 NFL head coaching jobs that opened last year, five were filled by individuals getting a second or third chance in the big chair, and two others by older assistants who'd been waiting for a shot.
The shift was likely inevitable (and predicted in this space a year ago), given the trends of the previous four cycles, in which the dominant demographic was first-time head coaches under age 45, making up over half of all hires (14 of 27). Just three came from that demo in 2022: Nathaniel Hackett (Broncos), Mike McDaniel (Dolphins) and Kevin O'Connell (Vikings).
Has the league changed course from its "Find the next Sean McVay" mentality? Or will the pendulum swing back again?
The likes of former Saints head coach Sean Payton and current Cowboys defensive coordinator Dan Quinn will dominate discussion in the coming hiring cycle and be near the top of plenty of lists. (Both figure to be selective.) Steve Wilks is making his case for a second chance as the interim head coach in Carolina, while other veteran coaches who received interviews last year -- such as Lou Anarumo, Eric Bieniemy, Leslie Frazier, Aaron Glenn, Vance Joseph, Raheem Morris and Bill O'Brien -- all figure to be in the mix again.
But the bet here is a refreshed list of rising young candidates will once again make up a significant chunk of the 2023 round of hires, given the instant success of McDaniel and O'Connell, and the sustained prosperity of others who have appeared on this list in past years, such as Matt LaFleur, Zac Taylor and Mike Vrabel.
This list of young coaches -- under age 45 with no previous NFL head coaching experience -- is the longest we've published in six years of doing this, reflecting both a new crop of talent as well as the increased number of interviews many teams have been conducting in recent searches. It's based on dozens of recent conversations with NFL executives, coaches and others close to the search process.
NOTE: The candidates in each section are listed in alphabetical order.
Candidates for the coming cycle
Rams AHC/TE coach Thomas Brown, 36: A former running back who was a sixth-round pick by the Falcons in 2008, Brown saw his playing days cut short by injury and moved swiftly into coaching, starting at the college level before old high school rival Sean McVay brought him to L.A. in 2020. McVay calls Brown "one of the greatest competitors I've ever been around." The two won the Super Bowl together last season, and Brown got his first head coaching interview with the Dolphins in January. Brown has mentored the likes of Melvin Gordon, Nick Chubb and Sony Michel. He's energetic, sharp and versatile, as evidenced by his move from the running back room to tight ends this year (McVay noted recently that Brown is still working with RBs, too), and he has big-picture perspective.
Bengals OC Brian Callahan, 38: The son of longtime NFL coach Bill Callahan, Brian Callahan has paved his own path in the NFL, starting in Denver, where he forged a close relationship with Peyton Manning and was part of the Super Bowl 50-winning team as an offensive assistant. Zac Taylor, who brought Callahan to Cincinnati in 2019, calls the plays, but Callahan plays a big role in game planning. The Broncos interviewed him for their head coaching job last January and Callahan impressed.
Iowa State HC Matt Campbell, 42: It's a down year for the Cyclones, who are 4-6 at publishing after five consecutive bowl appearances. But Campbell has been chased by NFL teams for years, including the Jets, the Lions and -- most recently -- the Vikings, who wanted to interview him last January. His reputation as a culture-builder with a good mind for offense keeps him on the league radar, and it won't be a surprise if he gets calls again.
Titans OC Todd Downing, 42: Now in his 18th season as an NFL assistant, Downing is known as a grinder with the right demeanor for the job, and he has shown he can be successful in different ways. Yes, the Titans' offense currently ranks 26th in points and 32nd in yards. But as coach Mike Vrabel said after one recent win, "That is going to have to be how we play. It is a battle." With no difference-making pass catcher and a rookie third-round pick (Malik Willis) starting multiple games at quarterback, the key, as Vrabel said, is to limit turnovers (tied for eighth-fewest) and execute in the red zone (first). Downing also kept the offense on track for the No. 1 seed last year when Derrick Henry missed half the season because of injury. Vrabel has already groomed two head coaches in the OC spot -- Matt LaFleur and Arthur Smith -- by training them how to set a culture, and Downing would be similarly equipped for the job.
EDITOR'S UPDATE: Downing was arrested early Friday morning for driving under the influence, the Tennessee Highway Patrol confirmed to NFL.com. The arrest came hours after the Titans' win over the Packers in Green Bay on Thursday night.
Broncos DC Ejiro Evero, 41: Evero's defense has been a bright spot in a frustrating season for Denver, allowing 19 points or fewer in eight of nine games. Born in Colchester, England, Evero grew up in California, played safety at UC-Davis and signed with the Raiders as an undrafted free agent (they released him a few months later) before embarking on a coaching career. He has coached all three phases -- offense, defense and special teams -- at various spots and been well regarded at each stop over 15 NFL seasons, including the past five with the Rams, winning a Super Bowl last season as Los Angeles' secondary coach/passing game coordinator. This is still just Evero's first year as an NFL coordinator, but he doesn't get rattled and has shown a knack for adjusting on game day. Learning from the likes of Vic Fangio in San Francisco, Mike McCarthy and Dom Capers in Green Bay and Sean McVay with the Rams has given Evero a unique blend of perspectives.
Eagles DC Jonathan Gannon, 39; OC Shane Steichen, 37; and QB coach Brian Johnson, 35: The Eagles were the NFL's last unbeaten team before dropping their first game this past Monday night, so it won't be a surprise if several members of Nick Sirianni's young staff are in demand for head coaching interviews in this cycle. (Sirianni himself is another alum of this list.) Gannon interviewed last year for head coaching jobs with the Broncos, Vikings and Texans (who brought him back a second time), and the Eagles' improvement on defense should make him even hotter this time around. Steichen has overseen the Eagles' offensive rise since taking over play-calling duties during the 2021 season and has a good reputation going back to his days with the Chargers. Johnson was a prolific college quarterback at Utah who returned to the Utes as a coach and subsequently became the youngest FBS offensive coordinator at age 24. He has mentored the likes of Dak Prescott, Kyle Trask and now Jalen Hurts (whose dad, Averion, coincidentally coached Johnson).
Bears OC Luke Getsy, 38: A productive college quarterback at Akron who went to camp with the 49ers in 2007 before going into coaching, Getsy formed a close relationship as a young Packers assistant with Aaron Rodgers, who later campaigned to bring back Getsy as quarterbacks coach in 2019. Getsy is now in his first year on Matt Eberflus' staff in Chicago, overseeing a breakout season for young QB Justin Fields. The Bears have found ways to be productive in spite of their personnel shortcomings amidst a rebuild, and just as important, they're building a culture on offense. The Broncos interviewed Getsy last year and came away impressed.
Raiders DC Patrick Graham, 43: Not much has gone right this season for the Raiders, who are 2-7 under new coach Josh McDaniels. But it can't be forgotten that Graham got a second interview for the Vikings' head coaching job a year ago and the Jets tried to interview him the previous year, too. A former Yale defensive lineman, Graham is now in his 21st year coaching, with the past 14 being spent in the NFL (including a Super Bowl XLIX win with the 2014 Patriots). He's passionate, has high expectations and holds players accountable.
Ravens STC Chris Horton, 37: A seventh-round pick by Washington who played three NFL seasons as a safety, Horton joined the Ravens as a coaching intern in 2014, was promoted to assistant special teams coach the following year and succeeded Jerry Rosburg in his current role in 2019. Horton has a presence and the trust of John Harbaugh, a former special teams coordinator himself. The Ravens finished No. 1 in Rick Gosselin's special teams rankings in 2021, and not just because of all-world kicker Justin Tucker. Harbaugh has given Horton ownership over the operation and Horton has run with it, coaching up players from both sides of the ball into what is perennially one of the NFL's top units.
Lions OC Ben Johnson, 36: Those who have worked with Johnson say he has one of the NFL's sharpest minds. (How many guys walk on to the football team as a quarterback while earning degrees in math and computer science, as Johnson did at North Carolina?) So, it's no surprise the Lions' offense found life midway through the 2021 season when Johnson and head coach Dan Campbell -- who spent four years with Johnson on the Dolphins' staff -- took the reins. Johnson previously has coached quarterbacks, receivers and tight ends, and he has a good feel for the whole picture. Is he ready to run his own show after one year with a coordinator title? That's unknown. But his reputation figures to get him in the room sooner than later.
Giants OC Mike Kafka, 35: The Giants have been one of the NFL's best surprises under new coach (and alum of this list) Brian Daboll, thanks in part to Kafka's work as play-caller on a team that lacks horsepower at receiver. A fourth-round pick by Andy Reid's Eagles in 2010 who bounced around the NFL as a quarterback for parts of six seasons, Kafka possesses innate leadership traits and earned a strong reputation as a QB tutor after reuniting with Reid in Kansas City as a quality control coach in 2017. Last season, Kafka was the QB coach/passing game coordinator for the Chiefs, who had one of the NFL's top passing attacks; this season, he's the OC of a Giants team that boasts the league's leading rusher in Saquon Barkley. Kafka knows how to execute both facets of offense at a high level, which should make him intriguing to teams that need not only a head coach but a plan for fixing an attack.
Jets OC Mike LaFleur, 35: It's probably a little soon for Packers coach Matt LaFleur's younger brother, who's still developing as a play-caller and a leader. But if the Jets keep winning with a very young core, it won't be a shock to see Mike LaFleur get an interview request or two. He's personable and from the same Shanahan/McVay tree of offense that has produced many other successful head coaches. In 2021, the Jets played four different QBs during one five-game stretch in which they ranked No. 1 in the NFL in yards per game; this season, the Jets are 5-1 since Zach Wilson returned from injury despite all kinds of offensive line ailments and the loss of breakout rookie RB Breece Hall. That adaptability will serve LaFleur well whenever his opportunity comes.
Buccaneers OC Byron Leftwich, 42: Leftwich got a long look as a head coaching candidate last year, interviewing with the Jaguars and Bears and getting a request from the Saints. The 10-year NFL quarterback was a backup in Pittsburgh under then-offensive coordinator Bruce Arians, who hired Leftwich as QB coach in Arizona in 2017 and brought him along to Tampa two years later to serve as OC. The Bucs' offense hasn't been as prolific this season, but it shouldn't be forgotten how dangerous the attack was in Leftwich's first three seasons, which included Tampa's run to a Super Bowl LV victory once Tom Brady came aboard.
Patriots ILB coach Jerod Mayo, 36: Still in just his fourth year of coaching, Mayo has already taken head coaching interviews with the Eagles (in 2021), Broncos and Raiders (both in '22). Before going into coaching, Mayo played eight seasons for Bill Belichick in New England, running the defense and relaying the signals for most of that time, including as a rookie to the veteran likes of Mike Vrabel, Tedy Bruschi and Vince Wilfork. He now serves as de facto coordinator for a Patriots defense that has played well again this season, ranking among the league leaders in sacks and takeaways. Mayo's pedigree and makeup are intriguing.
Cowboys OC Kellen Moore, 34: A six-year NFL backup QB who dove right into coaching as Dallas' QB coach in 2018, Moore is highly regarded for his football IQ and creativity. And he was busy last January, interviewing with the Jaguars, Broncos, Dolphins and Vikings for their head coaching jobs. (The Eagles interviewed Moore the previous year, too.) Like many really young coaches, Moore has a lot to learn in terms of the whole picture of running a program. He would need a good plan for his staff and to surround himself with experienced people. But the tools are there.
49ers DC DeMeco Ryans, 38: The Vikings were so impressed with Ryans after his initial interview last January that they asked to fly him in for a second. Ryans responded by doing something that almost never happens: He declined, telling the team he felt he needed more time to develop. That speaks to the mentality and maturity of Ryans, a two-time Pro Bowler in his 10 seasons as an NFL linebacker who is now in his sixth year as a 49ers assistant and second as defensive coordinator. Despite a rash of injuries, Ryans' unit shows up week after week, playing fast and physical. And he takes pride in impacting players on and off the field. His leadership traits outweigh his relative inexperience, and this could be Ryans' year -- if he decides he's ready.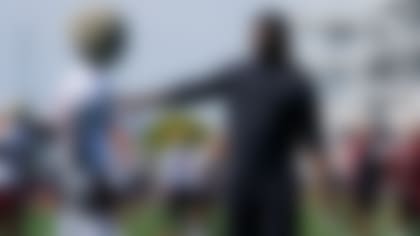 NFL coaches to watch in future years
Chargers DB coach Derrick Ansley, 40
Bills LB coach Bobby Babich, 39
Chiefs WR coach Joe Bleymaier, 40
Browns run game coordinator Ben Bloom, 40
Titans DC Shane Bowen, 35
Bills QB coach Joe Brady, 33
Jets QB coach Rob Calabrese, 32
Patriots TE coach Nick Caley, 39
Dolphins LB coach Anthony Campanile, 40
Rams OC Liam Coen, 37
Jaguars passing game coordinator Jim Bob Cooter, 38
Patriots DL coach Demarcus Covington, 33
Titans OLB coach Ryan Crow, 34
Vikings STC Matt Daniels, 33
Commanders assistant QB coach Luke Del Rio, 28
Seahawks AHC/defensive assistant Sean Desai, 39
Chargers assistant secondary coach Tom Donatell, 33
Bills OC Ken Dorsey, 41
Patriots WR coach/NFL coaching fellow Ross Douglas, 27
Packers safeties coach Ryan Downard, 34
Cowboys DL coach Aden Durde, 43
Jaguars STC Heath Farwell, 40
Chargers STC Ryan Ficken, 42
Buccaneers passing game coordinator/ILB coach Larry Foote, 42
Colts pass game specialist/assistant QB coach Parks Frazier, 30
Raiders QB coach Bo Hardegree, 38
Commanders DB coach Chris Harris, 40
Rams DL coach/run game coordinator Eric Henderson, 39
Bears STC Richard Hightower, 42
Chargers DC Renaldo Hill, 43
Saints LB coach Michael Hodges, 36
Browns pass game coordinator/DB coach Jeff Howard, 39
Seahawks DC Clint Hurtt, 44
Bears QB coach Andrew Janocko, 34
Vikings assistant QB coach Jerrod Johnson, 34
Titans passing game coordinator Tim Kelly, 36
Browns DL coach Chris Kiffin, 40
Broncos passing game coordinator/QB coach Klint Kubiak, 35
Vikings OL coach Chris Kuper, 39
Chiefs RB coach Greg Lewis, 42
Buccaneers assistant WR coach Thaddeus Lewis, 34
Ravens safties coach D'Anton Lynn, 33
Ravens DC Mike Macdonald, 35
Texans WR coach/passing game coordinator Ben McDaniels, 42
Saints co-DC/DL coach Ryan Nielsen, 43
Ravens ILB coach Zachary Orr, 30
Broncos DB coach Christian Parker, 30
Browns QB coach Drew Petzing, 35
Vikings OC Wes Phillips, 43
Bengals QB coach Dan Pitcher, 35
Packers offensive consultant Aubrey Pleasant, 36
Eagles LB coach Nick Rallis, 29
Saints assistant secondary coach Cory Robinson, 31
Rams QB coach/pass game coordinator Zac Robinson, 36
Cardinals AHC/STC Jeff Rodgers, 44
Jets LB coach Mike Rutenberg, 41
Rams RB coach Ra'Shaad Samples, 27
Seahawks DB coach/pass game coordinator Karl Scott, 37
49ers offensive passing game coordinator Bobby Slowik, 35
Vikings OLB coach/pass rush specialist Mike Smith, 41
Packers OC Adam Stenavich, 39
Jaguars OC Press Taylor, 34
Commanders WR coach Drew Terrell, 31
Giants QB coach Shea Tierney, 36
Ravens AHC/DL coach Anthony Weaver, 42
Cardinals co-pass game coordinator Spencer Whipple, 33
Chargers LB coach Michael Wilhoite, 35
Eagles DB coach/passing game coordinator Dennard Wilson, 40
Other college coaches on the NFL radar
Ohio State HC Ryan Day, 43
Virginia HC Tony Elliott, 42
Minnesota HC P.J. Fleck, 41
Miami OC Josh Gattis, 38
Boston College HC Jeff Hafley, 43
LSU passing game coordinator/WR coach Cortez Hankton, 41
Ohio State passing game coordinator/WR coach Brian Hartline, 35
Virginia Tech DC/LB coach Chris Marve, 33
USC coach Lincoln Riley, 38
Iowa State running game coordinator/RB coach/WR coach Nate Scheelhaase, 32
Illinois DC Ryan Walters, 36
Notre Dame DL coach Al Washington, 38