For an organization with back-to-back 11-win seasons, the Colts' roster is in a state of flux. General manager Ryan Grigson has 24 free agents, including nearly a dozen who played key roles in 2013. On the bright side, Andrew Luck will welcome back No. 1 receiver Reggie Wayne, top tight end Dwayne Allen, tailback Vick Ballard and starting guard Donald Thomas from injuries. Armed with roughly $35 million in salary cap space, Grigson will once again be among the league's most active general managers. Colts fans are hoping for an offseason payoff closer to 2012 than 2013.
» CB Vontae Davis: Although inconsistent, Davis is just entering his prime and has flashed shutdown corner potential. The Coltsopted against the franchise tag, but still want to work out a long-term deal with their defense's second-most important player.
» S Antoine Bethea: Bethea holds his own against the run and never misses a game, but he's entering his age-30 season and might soon become a liability in coverage.
» RB Donald Brown: Pressed into service as the lead back due to Trent Richardson's woes, Brown is ideally suited for the change-of-pace role. He's never been able to stay healthy and productive as a workhorse.
Other key free agents: K Adam Vinatieri, RB Ahmad Bradshaw, WR Darrius Heyward-Bey, LB Kavell Conner, LB Pat Angerer, OL Mike McGlynn, DT Aubrayo Franklin, DT Fili Moala, P Pat McAfee
More than you might expect. The interior of the offensive line has been in need of an overhaul since Luck was drafted. Although the team's brass stands firmly behind Trent Richardson, an insurance policy is needed in the backfield. Even with Wayne returning from injury, the Colts should be on the lookout for T.Y. Hilton's long-term sidekick.
On the other side of the ball, the secondary will have to be addressed if Davis and Bethea walk. The run defense is in need of a backbone after rolling over for LeGarrette Blount's career game in the playoff loss to the Patriots. Defensive Player of the Year candidate Robert Mathis could use a bookend complement to absorb some of the pass rushing responsibilities.
Unless Grigson is willing to throw in the towel on 2013 acquisitions such as Donald Thomas, Erik Walden and LaRon Landry, there aren't many candidates to be dumped in a salary-saving measure. The team can collect $4 million against the cap, though, by cutting center Samson Satele, who has been pushed around too easily the past two years. Don't expect free agents Bradshaw and Heyward-Bey back after they failed to make an impact in 2013.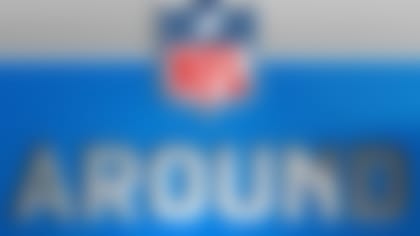 It's a shame the Browns applied the transaction tag to center Alex Mack, as he would have been an excellent fit as the Jeff Saturday to Luck's Peyton Manning. If Grigson makes a big splash in the free-agency pond, don't be surprised if it means pursuing Eric Decker to bolster the aerial attack. The Colts already showed their esteem for Davis' talent in surrendering a second-round pick two years ago, so they won't part ways with him lightly. Those moves would give Grigson the luxury of going best player available in the 2014 NFL Draft.
The latest edition of the "Around The League Podcast" works through our top 101 free agents and responds to some heat from Donte Whitner.