Teams around the league are getting their first on-field look at the rookies they inherited in this month's draft.
Naturally, the early word on these newbies -- to a man -- is overwhelmingly positive. Everyone's bigger, faster and far more daunting than expected. Welcome to mid-May, a time of endless hope for even the most ragtag of rosters.
Still, let's give thanks: We have players lining up, taking snaps, whipping passes and giving us a sneak peek of what's to come.
We'll take it, but we suggest you take the following rookie camp nuggets with a massive grain of salt:
Let's start in the desert, where Kent Somers of The Arizona Republic reports that Cardinals rookie receiver John Brown"is blowing everyone away," according to a team source. "Explosive and sudden. Great hands and a better route runner than we even thought." The third-round pick out of Pittsburg State is a T.Y. Hilton clone, with a 5-foot-10, 179-pound build and identical 4.34 speed. After what coach Bruce Arians did with Hilton in Indy, we're keeping an eye on Brown in this passing scheme.
After spending his senior year at Virginia playing the bookend role, Redskins rookie lineman Morgan Moses is using minicamp to relearn the right tackle spot, according to Mark Maske of The Washington Post. While fellow beat writer John Keim of ESPN.com would "be surprised" if Moses emerges as an early season starter, outplaying incumbent right tackle Tyler Polumbus isn't exactly a Herculean task.
After checking out Bills camp, WGR-AM's Joe Buscaglia said of Sammy Watkins on Sunday: "In the way he moves and the way he catches the ball, he just makes it look easy against the level of competition he was facing." Coach Doug Marrone called the wideout "smooth," but joked: "He's a first-round draft pick. If I came out here and he dropped five balls and he fell down five (or) 10 times, we'd be pissed."
On hand for the Johnny Manziel circus in Berea, Ohio, Marla Ridenour of the Akron Beacon Journal noted that the "most impressive"Browns rookie from a physical standpoint wasn't the former Texas A&M passer, but first-year running back Terrance West. As for Manziel, Ridenour noted that he "looked tiny." West, by the way, nearly went to Cleveland's bitter rival, telling reporters that the Ravens planned to take him at No. 99 before the Browns traded up to nab him five spots earlier.
The Steelers believe they've unearthed an X-factor in the form of Dri Archer. Taken at No. 97 overall, the former Kent State runner will see his share of backfield snaps, but he's also earning work as a punt and kick returner, according to Ed Bouchette of the Pittsburgh Post-Gazette. "I am comfortable at both," said Archer, who says his 5-foot-8, 173-pound frame won't stop him from contributing. "Everyone tells me I am too small, I can't take hits, I can't do this and I can't do that. I am just out here to play football. And I know what I can do."
Also out of the Steel City, Bouchette notes that while rookie linebacker Ryan Shazier is a lock to play on the inside, fellow first-year defender Jordan Zumwalt was used mostly at outside 'backer during his first two days of camp. "I'll go wherever they want me to go," said Zumwalt, who played both positions at UCLA, where he notoriously lit up Logan Thomas in the Sun Bowl. "We love that versatility," said general manager Kevin Colbert.
Taylor Lewan is seeing snaps at both left and right tackle with the Titans. The No. 11 overall pick acknowledged some "growing pains" in his attempt to man the line's right side, something he never did at Michigan. "The transition ... is pretty crazy. It feels a little different," he told the Tennessean. If he can make the shift, Lewan is a candidate to replace right tackle Michael Oher in the starting lineup or potentially fill the bookend role while pushing veteran Michael Roos over to Oher's spot.
First-round draft pick signing tracker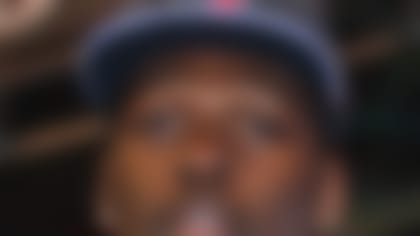 The weekend's most intriguing long shot? How about Jerry Rice Jr., who Baltimore coach John Harbaugh praised as doing a "nice job" with the Ravens this weekend. Still, the son of Hall of Fame pass-catcher Jerry Rice remains a long shot to make the 90-man cut.