The job requires physical and mental prowess, swagger and a short memory. Moments of failure can live forever, and the pressure to perform is constant. What does it take to thrive at cornerback in the NFL?
By Chase Goodbread | Dec. 21, 2021
Randy Moss reached with a hand that meant something to football fans everywhere.
DeAngelo Hall reached with one meaningless to all but him.
When Moss would throw his hand up high on a deep route, like an excited student with the right answer in class, millions knew the Minnesota Vikings star wanted the ball, and the play often ended with the future Hall of Famer in the end zone. It was a calling card that affirmed Moss' dominance as an unstoppable force of a wide receiver. At the same time, it served as a thumb in the eye to whichever helpless cornerback tried to prevent his next long touchdown catch.
Moss added Hall to the countless pile of cornerbacks he beat deep in an Aug. 20, 2004 preseason game, a play that served as Hall's "Welcome to the NFL" moment. Moss threw up the hand before he'd even blown past the rookie to get open and easily hauled in a 67-yard TD pass from Daunte Culpepper. But as Moss crossed the goal line, a trailing Hall extended his own left hand and lightly touched Moss on the waist. It was significant only to Hall, a cursory protection of the ego that every cornerback needs, but not all can maintain.
"That was just for me," said Hall, now an analyst with NFL Network. "I knew it was six (points), but just for my own self-confidence, I reached out and put a hand on him, just so I could tell myself, 'Alright, at least you were close enough to touch him,' " Hall said. "That really opened my eyes to know there's more to playing corner in the league than being able to run fast."
The cornerback position, now more than ever in the NFL, is a high-wire act where failures are a given, disadvantages abound and a unique brand of mental toughness is demanded. Cornerbacks frequently play without the immediate help of teammates, matched against some of the game's most dynamic athletes, with their mistakes often as plain to see for fans as they are for coaches. A single false step can cost a team a touchdown, a win, even a championship.
At the youth level, the best athletes with the skill set to play either wide receiver or cornerback gravitate toward the former position. At the scouting level, NFL evaluators demand hard-to-find physical traits in cornerbacks, along with a makeup that straddles a thin line between confident and arrogant. Career peaks for corners tend to be short-lived, and when older ones lose a step, even the best of them find it difficult -- if not impossible -- to compensate.
In the final regular-season game of Hall's rookie year, he secured a pick-six while covering another future Hall of Famer, Jerry Rice. It was the ultimate validation for a cornerback, and an ideal way to bookend the season after the rough way Moss had begun it. Hall went on to a stellar pro career of 14 seasons, three Pro Bowls and 43 interceptions.
But even for the cornerback elite, the hard lessons are as much a part of who they are as the moments of success.
---
---
'If you get your ass kicked at corner, the world is going to know'
The embarrassment of looking bad while allowing a touchdown pass is real, and if the moment is big enough, it's captured forever.
That's the reality cornerbacks live with, down after down, knowing they're the only thing standing between a wide receiver and the end zone -- save, perhaps, for a safety who might be late with help.
It's why the position is nicknamed The Island. Detached from 20 other players on the field, the cornerback knows millions of eyes will fall on him when quarterbacks launch the deep ball -- and in the case of touchdowns, many of those looks will turn to an angry glare. Tight, sound coverage doesn't guarantee success; good passes to good receivers generally beat good coverage, so failure is inevitable, even for the best cornerbacks. Much in the way outstanding hitters in baseball can fail seven out of every 10 at-bats and yet be lauded for having a .300 batting average, elite cornerbacks allow catches, sometimes in bunches, but thrive on preventing them at critical moments.
For those who don't, the moment of the score is a lonely feeling -- but in the age of social media and widely shared videos, there's nothing solitary about the aftermath.
"You have to have a tougher mentality to play defense, because no matter who you are, you're going to give up catches, you're going to give up big plays." -- Bucky Brooks
"There's a natural tendency for corners to not take risks so you don't end up on the wrong end of a viral moment," said NFL Network's Bucky Brooks, who transitioned from wide receiver to cornerback to extend a five-year NFL career, then served as a college scout for the Seattle Seahawks and Carolina Panthers. "You have to have a tougher mentality to play defense, because no matter who you are, you're going to give up catches, you're going to give up big plays."
Seventeen years should have scrubbed Hall's humbling moment against Moss from the internet. Between the passage of time and the fact that it had befallen him in a meaningless preseason game, it would surely be buried too deep in cyberspace to ever be found again, right? No. Just punch "Randy Moss hand up" into a Google search, and Hall's first rookie lesson stubbornly remains the top result.
In the modern game, cornerback fails are retweeted into infamy in a matter of minutes, around the world before even the highlight shows can catch up. But then, this is merely a faster version of an old phenomenon.
Before cornerbacks allowing touchdowns were viral online chumps, they were emblazoned on magazine covers featuring wide-receiving glory, but as the goats in the background, beaten antagonists. Check some of the most iconic Sports Illustrated cover photos of NFL lore, and there they are: cornerbacks also captured in the agonizing moment of defeat. They reach. They grasp. They dive and stretch and strain, sometimes with the reckoning of failure plain on their faces.
"You can play defensive end and get two sacks out of 61 plays, get your ass kicked for 59 plays, and everyone will say, 'Dog, you had a hell of a game,' " Hall noted. "But if you get your ass kicked at corner, the world is going to know."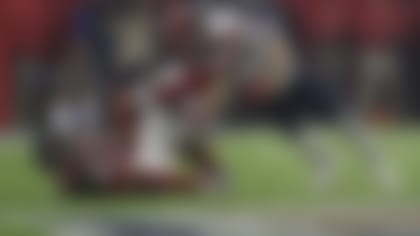 ---
---
'If you get beat, it might not get out of your head for a while'
The expression "short memory" is firmly attached to the top of the lexicon when it comes to the necessary mental makeup for cornerbacks. It's the buzz phrase that coaches and players alike use to describe the importance of instantly forgetting the allowance of big plays and moving on to the next snap with a clean, renewed focus.
It's easily said, but much harder to put into practice.
Even the Las Vegas Raiders' Casey Hayward -- who was the No. 1-graded cornerback in the NFL through eight weeks, per Pro Football Focus, and remains in the top 15 through Week 15 -- acknowledges that big mistakes can cling to even the best corners. One game in particular has stuck with him for six years. Hayward was on the wrong end of a connection between Peyton Manning and the late Demaryius Thomas in 2015 that went for 168 yards on eight catches. It was the fourth-highest regular-season single-game yardage total of the four-time Pro Bowl receiver's career, and the Broncos romped, 29-10, over Hayward's Packers. Hayward had three pass breakups on the day, an exceptionally high total for a cornerback, but of course, it was the passes he didn't break up that he still can't forget.
"I was a little beat up, but it was my fourth year and I was going into free agency, so I had to play through whatever. And they just put it on us, and myself, as well. Thomas gave it to me so bad; that game made me realize that the best receivers are unbelievably good at what they do," Hayward said, speaking in late October (before Thomas' death in December). "I kind of got lucky to get in that division (Hayward signed with the Chargers, AFC West rivals of the Broncos, in 2016) and get to play against him for the next three or four years, and I got my get-back against him."
If anything makes re-setting mentally easier on cornerbacks, it's all the information-processing that must happen between plays. From the moment a tackle is completed, cornerbacks are assessing down and distance, which hash the ball has been spotted on, offensive formation and personnel, and how those things relate to whatever defensive call is made. It's a lot to compute in a matter of seconds, especially if the offense is in hurry-up mode. In short, there's no time to sulk.
Nor is there anything to sulk about on certain completions, even those that might appear to be a cornerback's responsibility. Every defensive call is designed to stop or at least contain something specific, and is therefore inherently vulnerable to something else. When those vulnerabilities are exposed, cornerbacks sometimes look bad to the average fan's eye when they've merely carried out an assignment and are blameless for the play's outcome.
"If you're playing Cover 3, and a guy runs an out route, technically that's not on you as a corner. That's on an underneath defender to get into that throw window," said Michael Coe, a former NFL cornerback who is now the Reese's Senior Bowl's director of football operations. "But all people see is you breaking on the ball and having to make the tackle."
Coe and Hall both noted that younger cornerbacks often feel a greater sense of responsibility in coverage than they should. In zone coverage and even in certain types of combo man-to-man coverage, a receiver's route can transfer responsibility from one defender to another. Quarterbacks thrive on exploiting hesitation within those transfers.
"You end up having to learn as much about what you don't have to cover as what you do have to cover," Coe said. "Depending on whether you're assigned to play inside or outside leverage, you learn not to fall for certain moves because some moves fall to a safety or someone else."
For all the underlying nuances that define a cornerback's effectiveness, however, they're the ones who hear the loudest boos. They're usually the ones closest to the catch when refs raise their arms upright. And they're the ones who sometimes can't forget.
"We all sometimes don't have short-term memories. If you get beat, it might not get out of your head for a while; that's the reality," Hayward said. "But at the same time, it's only so long you can let it drag on, because you know that ball is about to be coming at you again."
---
---
'Quick and fast isn't enough'
An AFC scout thumbs through a three-year-old scouting report on Las Vegas Raiders cornerback Trayvon Mullen. The physical traits? They were all there. Mullen checked boxes in other areas, too: He had the confidence scouting departments look for in corners, and he had tape against top competition. You want intangibles? He won Clemson's Iron Man award for dependability and leadership, and he closed his career as Defensive MVP in a national championship win over Alabama. But ...
"The one thing that kind of bothered you with Mullen (at Clemson) was that he'd cheat too much," the scout said. "He'd grab guys and get away with it a lot, and sometimes he'd be grabby when he didn't need to be. You don't mind it so much in guys who are subtle with it and only cheat when they have to; that's the game. But you can't play a guy who gets flagged all the time."
Mullen, who was drafted by the Raiders in the second round in 2019, has been solid in coverage when healthy (he recently returned to the field after missing eight games with a toe injury), particularly in press coverage. But he has struggled with his tackling and run defense at times, and scouting concerns about him being penalty-prone have been reasonably predictive. According to nflpenalties.com, he drew eight flags as a rookie, tying him for fifth among NFL cornerbacks, and eight more in 2020, tying him for fifth (including a whopping four flags in a single game against the Chargers).
"You've got to have speed and quickness, but I've seen the fastest guys in the world not compete at a high level. They don't always dominate." -- Casey Hayward
Every position on the field comes with a set of physical traits that scouts look for, and every draft prospect endures top-to-bottom scrutiny in areas from athleticism and tape review to intelligence and character. But conversations with multiple NFL scouts revealed a depth of evaluation for cornerbacks that goes beyond thorough. It's needle-threading.
Impede or hold receivers downfield how and when it's smart, yet not blatantly or often enough to draw penalty flags.
Be exceptionally confident, even brash, yet not too arrogant to admit a mistake.
Even the rules of the game challenge corners in ways that other positions aren't: Make all the tackles, but, while working with split-second reaction time, refrain from making incidental contact with a defenseless receiver's head.
A landmark rule change befell cornerbacks in 1974 when legislation known as the "Isaac Curtis rule" forbade defenders from touching a receiver beyond 5 yards past the line of scrimmage. Lester Hayes' excessive use of Stickum was prohibited in 1981. A steady progression of safety rules have made tackling, particularly for defensive backs trying to break up passes, more subject to penalties.
Then there is the unique skill set that cornerbacks must possess.
Speed, overrated at some positions, is a non-negotiable factor for draft prospects at cornerback -- you have it, or you don't make an NFL roster. Short-area quickness and change-of-direction skills, often referred to as COD in scouting shorthand, are musts, as well.
As an NFC scout put it: "It's a reactive position. You're trying to stay with a guy who knows where he's going, and you don't know where he's going. So quick and fast isn't enough. You've got to be quicker and faster."
In the physical evaluation, the hips, feet and eyes of college cornerbacks are most telling for scouts. When they open their hips to change direction, the transition should be explosively sudden and smooth at the same time. Footwork speaks to technique and body position; corners with "clean feet" don't take wasted or errant steps that can make the difference between a touchdown pass and an interception. The eyes, meanwhile, are an indicator of instincts. Cornerbacks' eyes dart alternately between the receiver, the quarterback and the ball in the air, and if that visual progression falls out of proper sync, they are at risk of being beaten, no matter how athletic they are.
Finally, the ability to judge the ball in the air is paramount. Cornerbacks who lack it tend to play for breakups rather than interceptions, raking at the receiver's hands at the catch point, putting themselves at a higher risk of incurring pass-interference flags.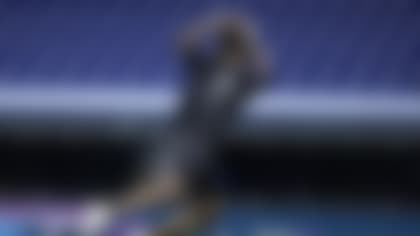 "You've got to have speed and quickness, but I've seen the fastest guys in the world not compete at a high level. They don't always dominate," said Hayward. "It's a game within the game. You know which receivers are fast; you know who's big and strong. As a pro, you've got to learn those things. That's where studying film comes in. Some of the fastest guys, I do different things; the bigger and stronger guys, I do different things."
Height and length are increasingly in demand, as well. Wide receivers, on the whole, have gotten bigger over time, and even the biggest cornerbacks give up size to the likes of Julio Jones (6-foot-3, 220 pounds), DK Metcalf (6-4, 235) and Mike Evans (6-5, 231). The average NFL cornerback stands about 5-foot-11 and weighs 193 pounds, but the undersized corner is finding it increasingly difficult to compete, and make a roster, in a modern passing game that is often played -- to use a basketball term -- above the rim.
"Height is important to many, many people, and you can miss out on good corners if you throw out the 5-9 guys, because a lot of them can really jump, and sometimes the 5-9 guys have the length of a taller guy," said the AFC scout. "But some teams just pass on them."
Have swagger. Be fast and quick. Be tall, instinctive and technique-sound. Be, in short, close to perfect, and when facing the inevitable failure of allowing catches, don't sulk about it. Scouts notice that, and it's not looked kindly upon.
"Bad body language for a corner would be head down, walking slowly toward the sideline, or finger-pointing if you give up a play, throwing your hands up with the refs, just that pouty stuff that's all excuse-maker body language," said Reese's Senior Bowl executive director Jim Nagy, who spent 18 seasons as an NFL scout. "Your demeanor on the sideline is looked at also. I think if more players knew what an easy tell that is for scouts, they would avoid some of that stuff. It's why scouts go to games instead of just watching tape. You can see things that aren't always on the tape."
---
---
'Father Time catches everybody'
Seattle Seahawks personnel executive Alonzo Highsmith imparted some of the best advice Hayward's ever received when it comes to extending an NFL career. At the time, Highsmith was working in the Green Bay Packers' personnel department, and Hayward, who began his career with the Packers in 2012, was too young to worry about aging out of the league. But he wasn't too young to listen. And now, as his 10th NFL season winds to a close, Hayward is glad he did.
"Highsmith always told me, if you want a long career, jump on the track in the offseason, and you'll be able to steal a couple extra years. He wasn't lying," Hayward said. "The longer you can maintain your speed, you can steal a few years. Every offseason, I jump on that track and maintain as much as I can."
Age and injuries erode physical skills in different ways for all players, but for cornerbacks, speed tends to be the first thing to go. It's also exactly what they can least afford to lose, so it's not uncommon for corners to be on top of their game one season and lose their grip on a roster spot the next. When losing a step can mean losing your job, career declines can be sharp.
Hayward, who has a track background from his high school years, hits the track by February following seasons in which his team doesn't reach the playoffs, and no later than March when it does. At age 32, with unrestricted free agency yet again looming, he's having the kind of season that will put him in a strong negotiating position for what would be his fifth NFL contract.
While speed is a prerequisite for young cornerbacks breaking into the league, there are older ones who manage to extend their careers after their speed has become compromised. A common move is to switch to safety, although that's not always easy. One such success story is Kareem Jackson, who transitioned easily from cornerback to safety upon leaving the Houston Texans for the Denver Broncos in 2019. The 33-year-old Jackson is still playing at a high level at safety in his 12th pro season as the oldest player on the Broncos roster, missing just one game in 2021 so far. But the physical traits that position demands aren't quite the same; not every cornerback has them, nor plays for a team willing to shepherd such a move.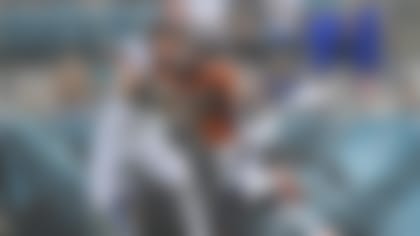 Then there are those who hang on with savvy.
They might begin studying more film, or rely more on instincts, or even get smarter about how to get away with a quick fistful of jersey without drawing a penalty. Something. Anything.
"When the speed starts to fade on you, your understanding of the game heightens a little bit. If it doesn't, your butt is not in the league very long," Hall said. "Father Time catches everybody except Tom Brady."
Alabama coach Nick Saban, himself a former college defensive back, revels in cornerback instruction even as a head coach. In 1992, as Bill Belichick's defensive coordinator with the Cleveland Browns, Saban coached a pair of aging cornerbacks in Everson Walls (33) and Frank Minnifield (32). Walls had trouble backpedaling and instead covered receivers with a "half-turn" technique that allowed him to shuffle before turning to sprint with a receiver. One oft-told version of the story holds that Saban taught the technique to Walls, but it was Walls who actually introduced it to Saban.
"He could transition better from a half-turn, because you're not going from a backpedal to a full run. You're already in position to run deep, because you've already turned your hips," Saban said. "I probably learned more from him and Frank on how to coach DBs than I ever learned from other guys, especially how to play man-to-man. But he taught me how he did it, and now when I have taller guys who are long and maybe struggle to redirect, I've taught them how to use this technique, and it's been effective for them."
Scheme plays a role, as well. As free agents, veterans can gravitate toward defensive coordinators who run a system that suits their skills. But a change in coaching regime can push them into roles for which they're poorly suited, and thus hasten retirement.
"When the speed starts to fade on you, your understanding of the game heightens a little bit. If it doesn't, your butt is not in the league very long." -- DeAngelo Hall
Regardless of style, however, age forces adjustments.
Older corners who excel in zone coverage or playing "off" coverage, then breaking on the ball in the air, might have to concede more short throws to ensure they don't get beaten deep. For press corners, the margin for error as they age is razor-thin.
"If you're a bump-and-run guy like a Darrelle Revis or a Richard Sherman, and you can beat up the receiver at the line of scrimmage and force the quarterback to go somewhere else because you've disrupted the route, that's one course of action for an older corner," said Brooks. "But for those guys, if you no longer have the ability to make up ground when you lose a step, your technique has to be flawless."
---
---
'Anyone who takes an early jump to train at corner, they've got a jump on the competition'
Youth players with the speed and skill set to develop either at wide receiver or cornerback don't seem to face much of a choice. From the attraction of scoring touchdowns to the rules of the game that favor offense, wideout is the magnet. NFL drafts deep in receiver talent have become commonplace, due in part to the popularity of the spread offense. By contrast, young athletes tend to fall to cornerback only because it's preferable to being the first receiver off the bench. Not surprisingly, NFL drafts tend to be thin on corners.
Everyone wants to be a Hollywood actor, but who wants to be the stunt performer?
"At the lower levels, there's a fascination with touching the ball when you're an athlete," Brooks said. "High school coaches have gone to the spread, so they're putting their best three or four athletes at receiver, so they can touch the ball. The corners, a lot of times, are the second-class athletes in the school."
Saban, who has coached five eventual first-round draft picks at cornerback in 15 years at Alabama, said the position is unquestionably tougher to recruit because of the imbalance between receivers and corners in the high school ranks. In fact, he's been known to recruit them from his own wide receiving corps. He points to three in particular -- Corey Webster (when he coached at LSU), Cyrus Jones and Trevon Diggs -- who began their college careers at wide receiver but were encouraged by Saban to migrate to defense and ultimately reached NFL success as cornerbacks.
"I tell high school kids all the time -- if you're 6-foot or taller, rather than standing in line with a bunch of 6-foot-3 receivers, if you'll ply your trade at defensive back, you'll have far more opportunities." -- Bucky Brooks
"(High school) guys want to be involved in the scoring, they want to play with the ball. So I do think there's a lot more guys who play receiver than play defensive back coming up in high school," Saban said. "So I think sometimes, if you have too many guys on the other side and there's a guy with the skill set to do it who is willing to do it, he can create more value for himself, because of supply and demand, by moving to defense."
LSU's Derek Stingley Jr., one of the top cornerback prospects today, is an exception. He was set on the cornerback path by his father, who did so because he recognized a lack of quality cornerbacks in college football and knew his son would stand out all the more for it.
"He worked with me on cornerback drills for as far back as I can remember," Stingley Jr. said.
Derek Stingley Sr. recognized a high supply of receivers and a high demand for cornerbacks. That disparity ultimately has its advantages for corners -- the bar for obtaining a college scholarship is lower than it is for a receiver. It's a premium position at the NFL level, one that draws its share of first-round draft selections and, later, bank-breaking second contracts. For youth players who aren't dazzled by wide receiving glory and view the choice purely from a standpoint of ascension in the sport, cornerback is the way to go.
If only they recognize it.
"(The pendulum) should swing. I tell high school kids all the time -- if you're 6-foot or taller, rather than standing in line with a bunch of 6-foot-3 receivers, if you'll ply your trade at defensive back, you'll have far more opportunities," said Brooks, who also coaches at Granada Hills Charter High School in the Los Angeles area. "Because it's so hard to find big, athletic, skilled corners at the highest level, that anyone who takes an early jump to train at corner, they've got a jump on the competition."
Armies of youth quarterbacks and wide receivers develop skills at a younger age with specialized training, and they maintain an ever-evolving relationship of improved sync and timing. Flip through TV channels on any fall Sunday, and veteran broadcasters across the board, often former NFL players themselves, repeatedly hail the advent of the sideline back-shoulder throw as completely indefensible.
What kid wants to sign up for stopping that?
It's not for everyone. It's fraught with the certainty of occasional embarrassment. It is by no means the easier path.
But it's there for the taking -- by those who can combine the skills with the nerve.
Editors: Ali Bhanpuri, Tom Blair, Brooke Cersosimo
Illustration by: Chris Ramirez
Illustration photo courtesy of: Associated Press, Shutterstock