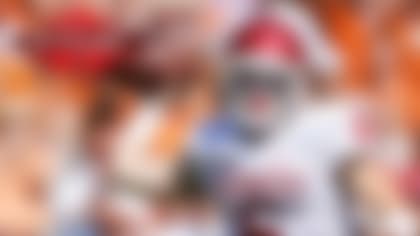 Here's a look at the 25 college football programs with the most NFL-caliber talent heading into the 2016 season.
Here are the teams ranked Nos. 11-15.
Take a look at the top 10 players from Michigan State to play in the NFL.
Players to watch: OG/C Brian Allen, LB Riley Bullough, DE Demetrius Cooper, CB Demetrious Cox, OLB Ed Davis, OL Kodi Kieler, DT Malik McDowell, QB Tyler O'Connor, RB L.J. Scott, WR R.J. Shelton, TE Josiah Price
The outlook: O'Connor is finally getting his chance to lead Michigan State, now that Connor Cook has used up his eligibility. Even though the team has produced several very good receivers in recent years, the well isn't dry with Shelton and freshman Donnie Corley available on the outside. Scott is a beast in the backfield, and Price is becoming an all-around talent at tight end. Mark Dantonio always seems to reload on the offensive line, and with Allen and Kieler providing veteran presences, there shouldn't be a large drop-off. Dantonio has landed some big recruits on the defensive side of the ball, with McDowell at the top of the list. The return of Davis for a sixth year is a blessing for MSU.
Newcomer in the spotlight: DE Josh King -- Shilique Calhoun and Lawrence Thomas are trying to make their way in the NFL. King, a four-star recruit from Illinois, will need to live up to the recruiting hype so the Spartans can have an effective pass rusher across from Cooper this season.
Players to watch: WR/CB Ishmael Adams, LB Jayon Brown, CB/S Randall Goforth, LB Deon Hollins, RB Soso Jamabo, OT Conor McDermott, DE Takkarist McKinley, CB Fabian Moreau, CB Marcus Rios, QB Josh Rosen, DT Eddie Vanderdoes, S Jaleel Wadood
The outlook: Jim Mora's players are all his now, as he enters his fifth season at the helm of the Bruins. Getting Rosen was a big catch. He will guide the offense over the next two or three seasons, and fellow sophomore Jamabo is due to break out in 2016. The defense has some great pieces, as well, with Vanderdoes, McKinley and Hollins attacking from the front seven, and Moreau, Rios and Wadood cleaning up behind them.
Newcomer in the spotlight: WR Theo Howard -- Graduations have decimated the Bruins' receiving corps the past two years, to the point that Adams is moving over from cornerback. That makes the fluid, strong-handed Howard a player the Bruins will be counting on for contributions right away. Look out for LB Mique Jaurez as a likely impact freshman as well.
Players to watch: DE Derek Barnett, S/RS Evan Berry, QB Joshua Dobbs, RB Jalen Hurd, RB Alvin Kamara, WR Josh Malone, DT Kahlil McKenzie, LB Jalen Reeves-Maybin, DB Cameron Sutton, DE Corey Vereen, OG Dylan Wiesman, WR Preston Williams
The outlook: This is the year Vols fans believe the team can overtake Florida and Georgia for supremacy in the SEC East. Dobbs has a stable of talented receivers to throw to (Malone, Williams and others). Dobbs also can make plays with his legs when given the chance, or simply hand off to Hurd or Kamara behind an offensive line returning four starters. The defense has speed in Vereen, Barnett and Reeves-Maybin to rack up TFLs -- NFL scouts will be checking out all of these guys as Tennessee roots for a return to glory.
Newcomer in the spotlight: DE Jonathan Kongbo -- Although left tackle might be manned by redshirt freshman Drew Richmond this season, the newcomer everyone is most interested to see is the 6-foot-6, 260-pound Kongbo. He might not start with Barnett and Vereen in tow, but he'll see the field. Butch Jones is fortunate to have two talented youngsters who could anchor the line on each side of the ball for the next few seasons.
Players to watch: WR Mark Andrews, OT Orlando Brown, LB Jordan Evans, WR Geno Lewis, QB Baker Mayfield, RB Joe Mixon, S Steven Parker, RB Samaje Perine, S Ahmad Thomas, CB Jordan Thomas, DE Charles Walker, WR Dede Westbrook
The outlook: After an 11-2 season, Bob Stoops and his staff return a lot of talent (per usual) and expectations are high in Sooner Country. Mayfield should put up big numbers once again while throwing to Andrews, Westbrook and Penn State transfer Lewis downfield. Perine is a powerful back who simply eats up five or six yards every carry. His backup, Mixon, would start on 100 other FBS squads. Brown played well as a freshman last season, and he's just stratching the surface of his potential. Stoops' secondaries are always full of prospects, and the triumvirate of Parker and the Thomases (no relation) continue that trend.
Newcomer in the spotlight: LB Caleb Kelly -- It won't take long for Kelly to make himself at home next to Evans in Oklahoma's defense. The five-star recruit can rush the passer, drop into coverage and play the run.
Check out the Top 10 all-time NFL players from Miami (Fla.)
Players to watch: WR Stacy Coley, OT Trevor Darling, CB Corn Elder, LB Jermaine Grace, OG Danny Isidora, S Rayshawn Jenkins, QB Brad Kaaya, C Nick Linder, DE Al-Quadin Muhammad, TE David Njoku, DE Chad Thomas, RB Joseph Yearby
The outlook: The story in Miami for 2016 is whether Mark Richt can take the program to a championship level after a very successful run at Georgia (145-51 record). There are pieces in place on offense, with Kaaya and Coley serving an excellent big-play combination. The offense returns all five starters on the O-line, and a strong back in Yearby. There is the typical Hurricane speed on defense, as well. Richt is already lining up commitments from Miami-area stars for 2017, so I expect the squad will be part of the ACC Coastal Division chase sooner rather than later.
Newcomer in the spotlight: LB Shaquille Quarterman -- High expectations come along with playing Mike linebacker at Miami, but Quarterman has the physical nature and speed to meet them. If Richt wants the defense to step up its game in 2016, he should ask the freshman to find his way to the ball as often as possible.