Walter Payton, affectionately known as "Sweetness," is considered one of the most prolific running backs in the history of American football. Raised in Columbia, Miss., Payton starred at Jackson State University of the Southwestern Athletic Conference. From 1971-74, he rushed for 3,563 yards and scored 66 total touchdowns.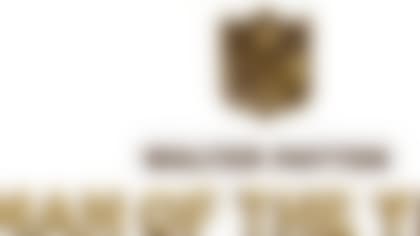 Selected with the 4th overall pick in the 1975 NFL Draft, Payton spent his entire professional career with the NFL's Chicago Bears. Throughout his illustrious 13-year career, Payton was a nine-time Pro Bowl selection and set several NFL records, including career rushing yards, touchdowns, attempts and 100 yard rushing games. He was elected to the Pro Football Hall of Fame in 1993.
In February 1999, Payton revealed that he was suffering from a rare liver disease known as primary sclerosing cholangitis. Throughout his fight Payton remained valiant and encouraged Americans to become organ donors; bringing national attention to the cause. Following a courageous battle, Payton died on Nov. 1, 1999 at the age of 45.
Shortly after Payton's death, to honor his legacy as both a phenomenal player and humanitarian, the NFL Man of the Year Award was renamed the Walter Payton NFL Man of the Year Award. Presented annually since 1970, the Walter Payton NFL Man of the Year Award is granted to the player who demonstrates outstanding contributions to society off-the-field while handling himself in an exemplary fashion in uniform. The award's panel of judges includes NFL Commissioner Roger Goodell, former NFL Commissioner Paul Tagliabue, Connie Payton, Pro Football Hall of Fame members Frank Gifford and Anthony Muñoz, Sports Illustrated football writer Peter King and the previous year's recipient.
Walter Payton's charitable legacy endures today through the work of the Walter and Connie Payton Foundation. The organization is dedicated to the emotional healing of neglected, abused and underprivileged children by providing tools and opportunities to build self-esteem and encouragement.
2014 Walter Payton NFL Man of the Year: Thomas Davis
2014 was another strong season for linebacker Davis, who started in all 15 games he played and finished with his third consecutive 100-tackle season. Davis, a four-year team captain, totaled 129 tackles, 2.5 sacks, two forced fumbles, one fumble recovery and six passes defended. He was a key component of the Panthers 10th-ranked defense, helping the team become the first franchise to claim consecutive NFC South titles. Davis ranks second on the Panthers all-time tackles list with 831.
Off the field, Davis puts his shoulder in to as many charities as he does opposing team ball carriers. In 2007, he and his wife Kelly founded the Thomas Davis Defending Dreams Foundation (TDDDF), a non-profit dedicated to providing and promoting free programs that enhance the quality of life for more than 2,000 underprivileged children and their families annually. Since its inception, the foundation has distributed more than $500,000 in aid. The foundation's cornerstone program, the Youth Leadership Academy, is a 14-week afterschool mentoring program for low-income middle school students.
Davis annually provides two college scholarships for graduating high school seniors who have completed the Youth Leadership Academy program. Through TDDDF, Davis also hosts annual programs including a back-to-school supply giveaway, a Thanksgiving meal for members of a local women's shelter and a Christmas gift giveaway for underprivileged children, in Charlotte, N.C., parts of South Carolina and in Davis' hometown in Georgia.
Davis is an avid proponent of keeping youth active and healthy. In June 2013, he led the construction of the first and only playground in his rural hometown of Shellman, Ga. In addition, his annual free football camp provides more than 350 children with instruction in football basics and life skills. Davis is active in the Panthers' PLAY 60 efforts and is a frequent visitor at the local pediatric hospital.
"I am honored to be selected as the Walter Payton NFL Man of the Year," said Davis. "This award means a great deal to me, as it symbolizes the valued work that the NFL, its players, and its 32 teams do in the community. I am blessed to have such a strong support system in my family, the Carolina Panthers and the NFL, which allows me to make an impact in the communities we serve."