As we take a look at the players that will be charged with replacing the 2014 draftees in the Pac-12, here are some early (OK, way-too-early) Pac-12 predictions from the College Football 24/7 team for the upcoming season:
Chase Goodbread: Stanford. The Cardinal has developed a way of exposing Oregon's weaknesses, having won three of the last five matchups, including two in a row. Until the Ducks turn that around, Stanford is the pick here. QB Kevin Hogan returns behind a retooled offensive line. Look for a big season from WR Ty Montgomery, who pulled in 10 touchdown passes last season.
Mike Huguenin: Oregon. The Ducks were overmatched physically by division foe Stanford in each of the past two seasons. Surely they have learned some lessons from those losses, right? QB Marcus Mariota and a solid group of tailbacks headed by Byron Marshall will operate behind an offensive line that returns all five starters. The secondary has some questions, but second-year coach Mark Helfrich has a lot of talent on hand -- enough, in fact, to beat Stanford, which lost more talent than the Ducks.
Bryan Fischer: Oregon. Stanford keeps proving people wrong, but the pick is the same as it was the past few years in Oregon. Third time's the charm against the Cardinal, right? The Ducks have one of the best quarterbacks in the country in Marcus Mariota and a great one-two punch at running back in Thomas Tyner and Byron Marshall. Ifo Ekpre-Olomu is a top-flight corner and there's talent all over the board. The loss of Bralon Addison to injury hurts, but the team should have plenty of athletes to fill in.
Goodbread: UCLA. The Bruins should win this division, and they might even run away with it. If QB Brett Hundley has the big season expected of him, USC will be hard-pressed to challenge in the South. The defense must replace Anthony Barr -- no easy task -- along with a few other key starters, but emerging star Myles Jack will be a force defensively.
Huguenin: UCLA. Coach Jim Mora has righted the ship quickly, and the pieces are in place for a division title. The offensive line is young and inexperienced, but the Bruins still have talent there -- and everywhere else, too, for that matter. QB Brett Hundley needs to show more consistency. A Sept. 25 trip to Arizona State looms extremely large.
Fischer: UCLA. The Bruins have been on quite the run since the conference became the Pac-12, and Jim Mora has plenty of players to make another run at the league title. Everybody will point to QB Brett Hundley, and he's great, but the talent around him shouldn't be overlooked. The receiving corps is deep and the tailbacks should be solid in 2014. The defense has playmakers all over the field and should be the reason why UCLA earns a spot in the championship game.
Team with best chance to win national title
Goodbread: UCLA. Despite a schedule that includes a road date with Texas and cross-divisional games against both Oregon and Stanford, Hundley gives the Bruins the best chance to still be standing at the end. Both Oregon and Stanford will be home games for UCLA. The Hundley-Marcus Mariota quarterback matchup when the Bruins host Oregon will be appointment television.
Huguenin: Oregon. It's all about the offense for the Ducks. Having Mariota for a third season obviously is big. Ultimately, though, the defense will have to come through at some key moments.
Fischer: Oregon. They will start off in the top five in the preseason polls and likely will control their destiny on the way to the inaugural four-team playoff. Having a big-time non-conference opponent like Michigan State early in the season is a great test and the schedule sets up nicely after that by missing USC and Arizona State in the South. They've been so close the past few years to a title, so maybe the move to a playoff is just what the Ducks needed.
Goodbread: Oregon QB Marcus Mariota. A legitimate Heisman Trophy candidate and potential early first-round draft pick, Mariota threw 31 touchdown passes last season against just four interceptions. In two seasons as a starter, his TD-INT ratio is a stunning 63-10. And he's so comfortable in the Ducks' offense, he makes it look easy.
Huguenin: Mariota. He has thrown at least one TD pass in all 24 games of his career and has thrown at least three in 10 contests. He was ninth nationally in total offense (336.9 yards per game) last season and owns a career 63:10 TD-interception ratio. Mariota also has rushed for 1,467 yards and 14 TDs in his two seasons. In short, he is a perfect fit for the Ducks' version of the spread.
Fischer: Mariota. For a conference known for producing quarterbacks, Mariota might depart with some of the best numbers out of any of them. He had a bad finish to 2013 thanks to a knee injury, but still managed to crack the top 10 in total offense. He's a better passer than people give him credit for and, of course, he can fly down the field when he takes off to run.
Goodbread: USC DL Leonard Williams. A dominant and versatile front man, Williams can play inside or outside with similar effectiveness. The Trojans will rely on him heavily as a disruptor this season, something he can accomplish more effectively from an end spot. He made 74 tackles last season, which is an outrageously high number for a player who weighs 290 pounds.
Huguenin: Williams. How did a guy from Daytona Beach, Fla., end up dominating for a school on the other coast? New Trojans coach Steve Sarkisian will be thankful Williams made the trek. Williams is a big man (6-foot-5, 290 pounds) with freakish quickness, and he has the ability to be a disruptive force because of that quickness (14 sacks and 27 tackles for loss in his career). He has played both end and tackle for the Trojans, and that versatility is another big selling point.
Fischer: Williams. Williams had an All-America year last season and did it all while playing with a torn labrum. Talk about "wow." He'll be fully healthy entering the season and the defensive lineman will be a terror for a league that lost a number of good offensive linemen to the draft or graduation. He'll be motivated about potentially being an early pick if he declares after the season and should be the next great Trojan who made a living in the backfield.
Take a look at Nike's latest updates to college football uniforms for the 2014 season.
Goodbread: Stanford's David Shaw. The Cardinal coach must replace his top defensive playmaker in Trent Murphy, an outstanding safety in Ed Reynolds, Tyler Gaffney at running back, and some major talent on the offensive line. Yet, who doubts that Shaw will plug those gaps and have Stanford at or near the top of the league once again?
Huguenin: Oregon's Mark Helfrich. If Helfrich and the Ducks win the tough North Division, look for him to be rewarded with top-coach honors.
Fischer: UCLA's Jim Mora. The Bruins' schedule sets up nicely with Oregon, Stanford and USC all coming to the Rose Bowl in 2014. With a soft non-conference schedule and a ton of talent, there's a reason why UCLA is being talked about as a darkhorse to make the College Football Playoff. If they're in a position to do just that, Mora is the pick.
Goodbread: Stanford RB Barry Sanders Jr. The son of the former Oklahoma State and Detroit Lions star didn't see much action at all last season, but possesses big-play ability and was squarely in the mix for playing time in spring practice. If he ends up getting the primary workload in the backfield, watch out.
Huguenin: Oregon DE Tony Washington. He didn't get much publicity last season and quietly racked up 7.5 sacks (7.5 is the most Dion Jordan ever made in one season, by the way). Washington is just 6-3 and 245 pounds and can't play end at the next level, but his high-level athleticism will appeal to NFL scouts. Washington held up well against the run in 2013, his first season as a starter, and he has the potential to get into double-figures in sacks this fall. If he does that, he will be known nationally.
Fischer: Washington QB Cyler Miles. It will be an adjustment to Chris Petersen's offense for the recently reinstated Miles, but the successful head coach has never had a quarterback with the physical talent Miles possesses. He showed flashes last season and there's a lot of talent that will surround him on the Huskies.
Goodbread: Oregon CB Ifo Ekpre-Olomu. The league's top cover man plays bigger than his 5-foot-10, 195-pound size, both against the run and pass. He has started every game the past two seasons and has appeared in every game of his career (40). Ekpre-Olomu gives Oregon a lockdown corner and a potential first-round pick in next year's NFL draft.
College QBs with most potential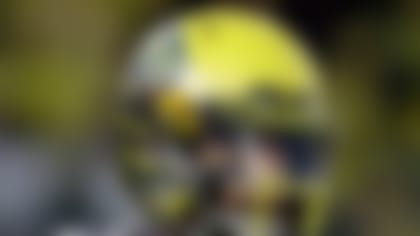 As good as this year's quarterback class was, next year's class is arguably better. Our panel of experts provide their take on which college football quarterback has the greatest pro potential. More ...
Huguenin: Ekpre-Olomu. He surprised some NFL observers by remaining in school for his senior season, and he should go into the season as the nation's top cornerback. Ekpre-Olomu will be the only returning starter in Oregon's secondary, so it wouldn't be a surprise to see opposing quarterbacks try to stay away from him. Ekpre-Olomu has seven interceptions and 30 pass breakups in his career and relies on good instincts and ball skills rather than blazing speed. He does have good speed, though, and is more than willing in run support.
Fischer: Ekpre-Olomu. His numbers won't be great in 2014 because he's one of the best in the country at his position and opposing quarterbacks are far more likely to throw away from him given the Ducks' secondary situation. He could have left early and been a top-50 pick, but another season of refinement will serve him well in the long run.
Player with most on the line
Goodbread: Oregon State QB Sean Mannion. At 6-foot-5 and 220 pounds, Mannion has the physical stature NFL coaches like in a quarterback, and he came back for his senior season despite fantastic production as a junior (400-of-603 passing, Pac-12 record 4,662 yards, 37 TDs). He reportedly received a third-round grade from the NFL Draft Advisory Board last year. To improve that, he'll need a better late-season showing than 2013, when he threw 11 picks over four consecutive losses.
Huguenin: Oregon QB Marcus Mariota. Presumably, he returned to become stronger overall and to improve as a passer. There were three games last season in which he completed 50 percent or less of his passes, and there also was a three-week stretch late in the season in which he struggled to produce on the ground. Should he choose to go pro after this season, he almost certainly would be a high draft pick in 2015. The flipside: He needs to show improvement in a couple of facets of his game, or risk not going as high as people think he will.
Fischer: Mariota. He clearly has the most pro potential out of any quarterback that will be eligible for the 2015 NFL Draft and some scouts already think he's the top pick heading into the season. He dealt with a knee injury that really affected him last season, so he'll be looking to prove he can be successful regardless of the circumstances. Perhaps he can ask Matt Barkley about how much is on the line for a potential top-10 pick who returns to school to lead his team on a national title run.