The 2023 season is upon us and here's how UK fans can make sure they don't miss a moment of the season:
The Sky Sports NFL channel will once again be the home for all your live NFL action throughout the regular season and Playoffs from September 5. Watch over 100 games live this season and join Neil Reynolds and guests for live NFL games every Sunday from 5pm. Sky Sports NFL will also show Monday and Thursday Night Football, live NFL RedZone on Sunday at 6pm, Fantasy Live, Good Morning Football, Total Access, Hard Knocks and other team all access shows (Sky channel 407 / Virgin Media channel 507).
Games to be shown LIVE on Sky Sports NFL and Sky Sports Main Event through Weeks 2 and 3 are as follows:
Minnesota Vikings at Philadelphia Eagles @ 1:20am Friday
Kansas City Chiefs at Jacksonville Jaguars @ 6pm Sunday
Dallas Cowboys at New York Jets @ 9:25pm Sunday
Miami Dolphins at New England Patriots @ 1:20am Monday
New Orleans Saints at Carolina Panthers @ 12:15am Tuesday
Cleveland Browns at Pittsburgh Steelers @ 1:15am Tuesday
New York Giants at San Francisco 49ers @ 1:20am Friday
New York Jets at New England Patriots @ 6pm Sunday
Chicago Bears at Kansas City Chiefs @ 9:25pm Sunday
Pittsburgh Steelers at Las Vegas Raiders @ 1:20am Monday
Philadelphia Eagles at Tampa Bay Buccaneers @ 12:15am Tuesday
Los Angeles Rams at Cincinnati Bengals @ 1:15am Tuesday
The ultimate way to watch NFL! Watch 14 games each week live plus catch every touchdown, every Sunday with NFL RedZone. Get 24/7 breaking NFL news on NFL Network, archive games and a host of documentary shows. Sign-up today.
Join former NFL player Jason Bell and two-time Super Bowl winner Osi Umenyiora every Friday evening on ITVX as they bring you the latest stories and news from around the league in the 'The NFL Show'. Plus watch past seasons of 'Hard Knocks', 'Undiscovered' and 'A Football Life'.
Catch every Monday Night Football Live game with Kirsten Watson and All-Pro running back Maurice Jones-Drew and Gregg Rosenthal from 1am on Channel 5 and watch exclusive content from Cori Yarckin and the team on NFL EndZone every Sunday morning at 10:30.
talkSPORT and talkSPORT2 will broadcast over 40 games across the season, including two live games every Sunday as well as Super Bowl LVIII.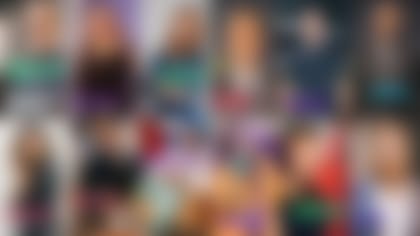 HERE IS YOUR WHAT YOU CAN EXPECT EACH WEEK.....
Table inside Article
SUNDAY
NFL Endzone on Channel 5 (10:30am)
NFL Gameday Morning on Sky Sports 2pm
One 6pm and one 9:35pm game on Sky Sports NFL (from 5pm)
Every game live on NFL Game Pass aside from the two Sky Sports games mentioned above (6pm)
NFL RedZone on Sky Sports Mix (from 6pm) and on NFL Game Pass
Sunday Night Football on NFL Game Pass (1:20am)
Sunday Night Football on Sky Sports NFL (1:20am)
Sky Sports NFL Channel (24 hours a day)
NFL Game Pass 24/7
talkSPORT Radio coverage of SNF
Table inside Article
MONDAY
Monday Night Football on NFL Game Pass (1:15am)
Monday Night Football on Sky Sports NFL (1:15am)
Monday Night Football on Channel 5 (1:15am)
ProFootballTalk on Sky Sports 12-3
Good Morning Football 5pm
NFL Game Pass 24/7
NFL Fantasy Live on Sky Sports NFL 11pm
Sky Sports NFL Channel (24 hours a day)
Table inside Article
TUESDAY
NFL Game Pass 24/7
Sky Sports NFL Channel (24 hours a day)
ProFootballTalk on Sky Sports 12-3pm
Good Morning Football 5pm
Kansas City Chiefs: The Franchise on Sky Sports 8pm
NFL Fantasy Live on Sky Sports NFL 11pm
NFL Total Access on Sky Sports NFL 12pm
Table inside Article
WEDNESDAY
NFL Game Pass 24/7
Sky Sports NFL Channel (24 hours a day)
ProFootballTalk on Sky Sports 12-3pm
Good Morning Football 5pm
Jaguars Weekly on Sky Sports 9pm
One Jets Drive on Sky Sports 9:30pm
NFL Fantasy Live on Sky Sports NFL 11pm
NFL Total Access on Sky Sports NFL 12pm
The Jason and Osi Podcast on NFL UK YouTube channel
Table inside Article
THURSDAY
Thursday Night Football on NFL Game Pass (1:15am)
Thursday Night Football on Sky Sports (1:15am)
ProFootballTalk on Sky Sports 12-3pm
Good Morning Football 5pm
NFL Fantasy Live on Sky Sports NFL 10pm
NFL Game Pass 24/7
Sky Sports NFL Channel (24 hours a day)
Her Huddle on Sky Sports 8pm (every two weeks)
NFL to LDN Podcast on NFL UK YouTube channel
Table inside Article
FRIDAY
The NFL Show on ITVX and ITV1
NFL Game Pass 24/7
Sky Sports NFL Channel (24 hours a day)
ProFootballTalk on Sky Sports 12-3pm
Good Morning Football 5pm
49 Hours on Sky Sports 8:15pm
NFL Fantasy Live on Sky Sports NFL 11pm
NFL Total Access on Sky Sports NFL 12pm
Table inside Article
SATURDAY
The NFL Show on ITVX
NFL Game Pass 24/7
Sky Sports NFL Channel (24 hours a day)