Women are rising up the ranks throughout professional football, earning positions of power in a space that for too long was ruled almost exclusively by men. We're seeing more and more women breaking barriers in the sport, but what are the stories beyond the headlines? Who are the women shaping and influencing the NFL today? Answering those questions is the aim of the Next Woman Up series. While the conversational Q&As are edited and condensed for clarity, this is a forum for impactful women to share experiences in their own words. Without further ado, we introduce:
Ashton Washington, Chicago Bears
Position: Player Personnel Coordinator
---
---
How did you get your start in a career in football?
I was around football so much growing up that I decided to do something outside of the game when I was about 11 years old. I wanted to do anything else. Then in high school, I discovered that I really liked being around the game, seeing my classmates during their recruiting processes and what it meant to them. I saw college coaches come to our school and visit with players, and I was really fascinated by that whole process. I remember asking my dad, "How do I get into that career?" and "Where do I start?" We talked about it, and I found different avenues and started working within sports media.
I applied for an internship at ABC News during my first year at Huston-Tillotson University in Austin, Texas. I was turned down that first semester because I was too young. But I don't take no for an answer, so I just kept pressing. In the spring semester, they ended up accepting me for an internship in the news department. I was the youngest one there, and I remember realizing that news was not what I wanted to do. I tried to ease my way into sports and help with whatever they needed. I eventually got an opportunity to go to a high school football game, and in Texas, high school football is a religion. It's in our blood. I wrote a small article for the game, and I immediately called my dad afterward. I told him, "This is it. Of all things, football is what I want to do and where I want to be." He started laughing at me and said, "I told you."
I started reaching out to different outlets -- 247Sports, Rivals.com and other recruiting sites -- and I finally got an email back from the University of Houston's CougarsDen, which is their site on Rivals.com. I took a non-paid position because I wanted the experience. I called at least one recruit every week and interviewed them about their feelings on Houston and the football team. During that time, I also used my name and what I was building with Rivals.com to start going to events like Nike Football's The Opening Invitational, the Under Armour All-America Game and other 7-on-7 events, and I started writing my own stories on the side. I built good relationships with those kids, and my career took off.
247Sports reached out, and I started working with them doing the same thing, but I was traveling all over the country. I was shaking hands and meeting people, and that's how I built a network. I did that throughout my entire college career. I knew what I wanted and no one would steal me away from my dream.
How often did you travel with that type of job?
It was year-round. If I had an 8 a.m. class on Wednesday, I'd hit the road right after. I worked at a sandwich shop at the time, too, and used that money to travel. I would also save that money to buy flights if I needed to. It might've been the worst airline, but I got where I needed to be.
Wow, that is dedication. Can you take me through how you arrived at the Chicago Bears?
After graduation, I received a call from a woman with the XFL. She was in the Houston office and asked if I was interested in an entry-level position for the Houston Roughnecks. I took the job and moved back home to Houston. The XFL ended up getting shut down because of the pandemic, so all of the employees were terminated. I went back to the drawing board and that's when I received an email from University of Illinois saying that head coach Lovie Smith wanted to schedule a meeting with me. Coach Smith heard about me from a guy who I met when I was working with Rivals.com, and he was at Illinois at the time. It's crazy how the people you meet circle back.
I wore Illinois colors during the Zoom interview, and that was the first thing Coach Smith noticed. "That's what I'm talking about," he said. We talked for about 10 minutes and he offered me a job, giving me 24 to 48 hours to make a decision. It was a big move and I remember really questioning, "Do I chase the dream?" It was a huge opportunity for someone like me who was pretty fresh out of college at 22 or 23 years old. I called him back and told him I'm ready to take the next step and accept the director of high school relations position. He replied, "That was the call I was waiting for."
Next thing you know, I'm packing my bags and moving to Champaign, Illinois. I went through a season with Coach Smith before he was let go. I was there for another two months and then the new head coach cleaned house, which is normal in this business. I had to go back to the drawing board again, but if you want something, you just don't stop. Football is addicting, and I couldn't stay away.
I got a few job offers, but they weren't the right fit. I eventually took the director of recruiting of operations and creative content at Texas Tech with head football coach Matt Wells. Then while I'm there, I randomly got a phone call from someone saying, "Would you be interested in an opportunity with the Chicago Bears?" They didn't tell me their name, so I thought it was a prank call at first. I answered the call in the middle of a busy day, and they were asking me all these questions. I asked if I could give them a call back, and before I hung up, he told me his name was Champ Kelly, who was the assistant director of player personnel for the Bears (2017-2021) before joining the Las Vegas Raiders as assistant general manager.
I ended up reaching out to Sam Rapoport, who had previously invited me to be part of the Women's Careers in Football Forum, to help get his contact. I was able to set up a call with Champ, and the next thing I know, I was into the next round of interviews for the Nunn-Wooten Scouting Fellowship. I had to get permission from Matt Wells to pursue this opportunity, and he gave me the green light and said, "I'll see you when you get back."
I spent the summer in Chicago and stayed through training camp, and I was also doing my Texas Tech job during camp. At the end of the fellowship, I was offered this job with the Bears. Coach Wells wanted me to stay at Texas Tech, but understood I had to do what was best for me. I chose the Chicago Bears, and I've been here since.
What does your current job entail?
Oh my! How do I sum this job up? I have to be a jack of all trades because I'm working on the college and pro side of scouting. In my mind, I always have to keep those two areas separate, but constantly flip back and forth because they also intersect. Being proactive, disciplined and staying organized are some key components of this job.
With the NFL Scouting Combine at the end of this month, I am the one who is coordinating all of the travel for our staff. I also schedule the top-30 prospect visits, as well as player visits during free agency. For free agency, we get together with the pro staff, watch film and figure out which free agents we want to pursue this offseason. Once we have a list and I get the green light from general manager Ryan Poles, I am the point person who brings players in, books the travel and gets everything set up with our scouting assistants to meet with the players once they arrive.
The main thing with my job is being a great communicator, and I'm growing and getting better at it all the time. You have to keep every department in the loop, whether that's on the business side, the general manager, assistant GM, coaching, training and equipment staff, etc.
What would you say is the most challenging part of your job?
Right now, I'm in a good place. Learning scouting language and terminology was challenging at first. I've always been around football, but coaches interpret things differently than scouts. It is a challenge learning how to put what I'm seeing on film into words scouts are familiar with -- like figuring out how to say "He's big. He's fast. He's strong." in scout-speak. We have open communication where we can all feel comfortable asking questions. Nobody is judging anyone else, so it's a good environment to learn and be in.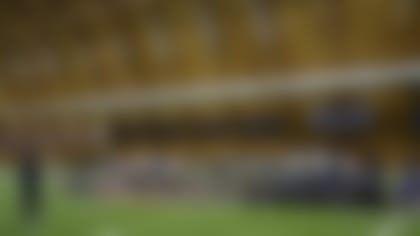 I can see where that would be a challenging. What is your ultimate goal?
My ultimate goal was to make it to the NFL. Now that I'm here, I would say it's how can I get better each day? People say I need a five-year or 10-year plan, but to me, the whole plan was to get where I am now. I didn't know how old I was going to be or which avenue I would have to take, but I knew I was going to get here. Now it's about staying present.
Do you have any mentors who have helped you along the way, and what advice have you received?
It truly has taken a village to get me here and keep me here, whether that's family, friends, co-workers throughout the years and so many others. The advice I've received and applied is to be a willing communicator and ask questions. Even if you feel like it's a dumb question, you have to be willing to ask and learn. The other is having patience. It's important to not necessarily think about the end goal but focus on the daily process.
Those are great. This question might overlap, but what advice do you have for women interested in a career in football?
Don't let anyone talk you out of your dreams. I have had teachers tell me, as a woman of color, to choose a more realistic career plan. That's why I have worked so hard to get where I am, and for a long time, I used to not tell people I wanted to work in football because of that. Players always say they have a chip on their shoulder, and I have one, too, because I remember hearing that a lot. There are people who take others' opinions into account and that's how a lot of dreams get crushed. Stay the course.
What are you most proud of?
I'm most proud of the people I work with because I feel like, if you're not proud of your teammates or they aren't proud of you, then what are we doing? I'm proud to work for a team that hired me for my value as a person and skill set. I wasn't hired just because I am a woman; I was hired because of what I could bring to the table.