Women are rising up the ranks throughout professional football, earning positions of power in a space that for too long was ruled almost exclusively by men. We're seeing more and more women breaking barriers in the sport, but what are the stories beyond the headlines? Who are the women shaping and influencing the NFL today? Answering those questions is the aim of the Next Woman Up series. While the conversational Q&As are edited and condensed for clarity, this is a forum for impactful women to share experiences in their own words. Without further ado, we introduce:
Jackie Maldonado, Houston Texans
Position: Director of Game Presentation and Live Entertainment Producer
How did you get your start in a career in game presentation?
Game presentation has always been my passion and I knew that very early on in college. I thought that after you graduate, you get a job in your field and start a career. I thought it was that easy. That did not happen for me. I got a lot of rejections and all that did was fuel my passion even more and my want to prove to all the naysayers that I was qualified to work in sports and game production.
I ended up doing an internship at the University of Texas at San Antonio, and while I was there, I sought out opportunities on my own. During that time, I called the San Antonio Spurs so many times looking for opportunities to get my foot in the door. I left so many messages, and the last time I decided to make that call and try, I was sitting in my truck and I thought, "If nothing else, I can at least say I did everything that I could to get this opportunity." To my surprise, Don Costante, then-Spurs director of game operations and promotions, picked up. "Hello, this is Don Costante." I froze but eventually introduced myself. He knew I was the intern from UTSA because I had called so many times. We set up a meeting, and the Spurs didn't have an internship or volunteer opportunities at the time, but he said that because I was so persistent, he wanted to help me. The Spurs started a shadowing program just for me, allowing me to get in the building. I did that for about a year, and simultaneously, I was driving to Austin and worked part-time at the University of Texas at Austin to get football experience. It was Texas football on Saturdays and Spurs games on the days I wasn't working men's and women's sports at UTSA. I had no time for myself, and at the end of that year, UTSA and the Spurs offered me full-time jobs.
That's how I got my start. When the Spurs opened that door for me, I just wanted to go in, put my head down and work. To be completely honest, that feeling has stayed with me to this day. I've always had that chip on my shoulder, and I feel like there's always more to prove. All I want is to let my work speak for itself.
I'll forever be grateful to the Spurs for cracking the door open and allowing me to push through. After my two-year stint with the Spurs, I got a call from the Houston Rockets asking me to apply for a position. I did that, got the job and worked for them for seven years. The position with the Rockets allowed me to grow in game presentation and live entertainment, the flow of creating energy and atmosphere for fans in a game.
That's a great story. And how did you transition to the NFL?
I knew my ultimate dream was to work in the NFL, and I was very set on doing that. I was fortunate to get a call from the Houston Texans in 2013. I got this job and it's where I am today and where I want to be. I was very clear with my career path with what I wanted to achieve. In college, I was knocking on so many doors, turning over all these rocks and submitting résumés everywhere, and it was always "No." I feel very fortunate that it's turned around and that these organizations have been knocking on my door. I don't take that for granted.
What ultimately attracted you to the NFL?
Yes, the NFL has only 10 home games a season, but the difference between those and the 41 home games NBA teams have is the expectation of a fan and what you experience on a game day. The NBA's big games are opening night, games on TNT or ABC or big matchups. Those were games that I loved. The NFL offers 10 games that all matter. It doesn't matter if it's preseason or midseason, you are producing an opening-night feel every game of the year.
An NFL fan has their jersey on, face painted and is standing and cheering for three-plus hours. What they experience and want out of the game experience is very important to us. I love that pressure of putting on 10 opening nights and serving the expectation of the fan coming to an NFL game.
I never thought about it that way, but that's really interesting. Can you explain what your job entails?
Game presentation is creating the atmosphere for our fans. We are essentially creating everything other than the plays on the football field. It's the talent or celebrities on the field pre-game, cheerleaders, the mascot, the music, the call to actions asking fans to get up and get loud, corporate features on the video board, halftime show, on-field promotions, etc. It's creating that fun element of game day, but we're also the intensity that brings the stadium to life.
How many changes year over year do you make in your game-day production?
That's something we're really proud of here at the Texans. We're not just evolving our show year to year. It's evolving game to game. Our season ticket members are very important to us, and we don't want the show they see in Week 1 to be the exact same thing they see in the last game of the season. For example, a partner will have one feature for half the season and a second for the other half, and we will rotate those throughout the game. We do this for multiple partners to create variety for our season ticket members. That's our challenge. We want our fans to enjoy it and feel like they have a different experience every time they come to a game.
OK, so what does game day look like for you?
It's crazy. It's production meetings, rehearsals, pre-game show, the game itself and a post-game show. On a typical Sunday when the game kicks off at noon CT, I'll get to the stadium at around 6 a.m. Our first production meeting is at 7 a.m. and we transition to rehearsals from 8 a.m. to 9:45 a.m., which is when the doors open. Once that happens, I am up at the press box making sure that everything is on point and we're getting ready to do our pre-game show, which goes right into producing the game. It's making sure that cues are happening when the team runs out onto the field, the talent is where they need to be and making game day come to life. I'm in the press box and I talk a lot. We don't rest until long after zeroes are on the clock because we go right into our postgame show. That's about a 12-hour day.
Once that headset comes on, it's tough to even get a bathroom break. I'm constantly cuing the DJ with music or other features. I'm intentionally very dehydrated on game days. It's nonstop communication, directing the game and making sure everyone is where they need to be.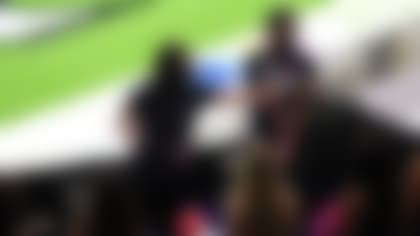 Were you involved in Super Bowl LI at NRG Stadium?
I worked Super Bowl LI in Houston, Super Bowl LII in Minneapolis and Super Bowl LV in Tampa, Florida. The Houston game was my first experience working the Super Bowl, and my role was trophy presentation. I had to make sure certain players made it up to the podium, and that was the game when Julian Edelman had that crazy catch. So I walk up to No. 11 and say, "Hey, congratulations but I need you to move to the red carpet." It was a small part in the Super Bowl experience but really fun nonetheless.
My role grew in Minnesota and Tampa by taking on more responsibilities with the pre-game show. In Tampa, I worked the pre-game show and the trophy presentation. My goal in moving up this career ladder is directing and producing a Super Bowl in its entirety. I love Tim Tubito, the NFL's director of event presentation and content, but I'm coming after his job.
What great experiences. What would you say is the most challenging part of your job?
The most challenging is also the most important. What makes Houston unique is how diverse it is. It's important for us to reflect that in-stadium and as a franchise, and we want to cater to all of our fans. We do that through music and video-board and on-field features, which are all going to hit different genres and demographics. It's important and a high priority for us.
The other is evolving game presentation. That holds true for any game producer. We want to evolve with the times and be the first to do something no one else has done. Super Bowl LIV in Miami first introduced mixed reality, in which virtual and physical environments are combined. We loved it and knew we wanted to incorporate that into our shows, so last year, we were the first to fully integrate mixed reality from the beginning of the game to the end. We are definitely ahead of the curve in cutting edge technology, but we were really excited about embracing that.
Mixed reality is part of our kickoff video, with an animated bull that then runs out onto the field, blows fire and triggers the music that sets the atmosphere in the stadium. We also have a feature where there's an entire shopping cart race that happens in real time above the field, and there are call to actions that happen with mixed reality, as well. When the Texans score, the word "touchdown" comes up over the field on the video board and fire that goes off before we go into our touchdown sequence. We have taken mixed reality and used it in multiple platforms for our show.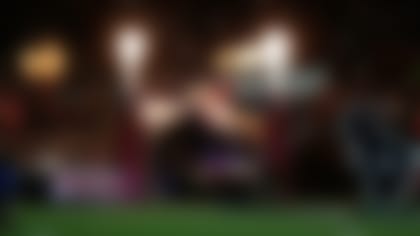 That sounds amazing. I want to pivot to mentorship. Do you have any mentors who've helped you in your career?
I've been really fortunate to have two very supportive parents. My dad actually passed away a few years ago, but they have always supported my dream. When I told them I wanted to work for the Spurs, they didn't bat an eye. They have believed in me every step of the way, and it means so much. I'm from Laredo, Texas, which is on the border of Mexico. People from Laredo don't normally get the fun experiences that I have received, and big goals can be pipe dreams for some. But having the support of my parents made me understand that the only thing stopping me from achieving anything was myself. That has really been a driver in my career. The support drives me to be better, climb the career ladder and to be an example for others.
Professionally, it's Don Costante, my first boss with the Spurs. When he offered me that full-time position, it was an assistant position, but he didn't treat me that way. I was his right-hand woman. I went to every meeting with him. I knew everything he knew. The way he saw it was if he wasn't there, I needed to know the answer to any question that corporate or our team president might have. He gave me the opportunity to direct my first basketball game in my first year with the Spurs. I directed a game in March of 2004, and there was no doubt in his mind that I could do it. I was the first person he had ever managed that he allowed to direct a game without him being by their side. It was the support and confidence from him very early in my career that gave me the confidence to know that I could direct a live game. He was very instrumental in teaching me everything I needed to know but also that I deserved this opportunity.
What is next in terms of things you want to accomplish?
I want to continue evolving our show first and foremost. It's very important to me that the Texans are known as best in class, not only in the NFL but in all sports. I think we've taken that first step in introducing mixed reality but we want to do more.
The big dream is to produce a Super Bowl. The NFL is the big show. It's the best practice in production in live events, so if I do produce a Super Bowl, I could say I have produced one of the most respected live show in sports, if not the most, because it makes a global impact.
Lastly, what are you most proud of in your career?
I'm a little girl from Laredo, Texas, so representation is really important for me. What I'm proud of is not only am I female in a male-dominated industry -- that industry being live game production and production at large -- but right now I'm the only Hispanic female who's a director of game presentation in the NFL.
I hope there are girls or women who look like me, read this article and think, "If she can do this, I can do it," because they can.