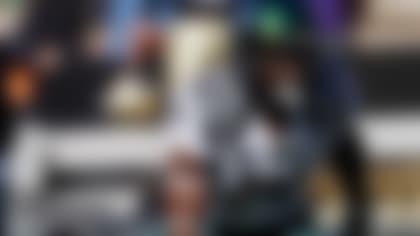 The pass-centric nature of the NFL game has scouts scouring the ranks for big, athletic cover corners with great feet, hips and hands. The wide-open nature of the spread offense is predicated on exploiting overmatched defenders in space.
To counter the "basketball-on-grass" approach favored by the overwhelming majority of high school, college and NFL coordinators, defensive coaches are locking up their corners and safeties in man coverage, hoping they're capable of disrupting the timing and rhythm of the passing game with a variety of bump-and-run tactics on the perimeter. Additionally, defensive minds are hunting for safeties with corner-like skills floating between the hashes.
With a plethora of young defensive backs emerging on the collegiate level, the 2015 and 2016 NFL Draft classes should feature a wealth of options for defensive coaches hoping to reverse their fortunes. Here are 10 to watch this fall:
1. Ifo Ekpre-Olomu, Oregon
It's hard to find tough, gritty cornerbacks with cover skills and tackling ability, but NFL scouts have already identified a budding superstar in the Pacific Northwest. Ekpre-Olomu is an ultra-competitive technician with outstanding instincts and awareness. The 5-foot-10, 195-pound senior has made 7 interceptions and 36 breakups over the past two seasons, including 4 picks and 16 pass breakups in 2013. Ekpre-Olomu is one of the few college corners adept at challenging receivers at the line or shadowing from off, while also displaying adequate physicality and toughness as a tackler. Given how difficult it is to find cover corners with complete games, it's easy to anoint Ekpre-Olomu as the top defensive back in college football.
2. P.J. Williams, Florida State
The Seminoles are re-establishing the pipeline to the pros in the defensive backfield, with Terrence Brooks, and Lamarcus Joyner following Xavier Rhodes (2013) as top picks in the draft. Given the recent success of the Seminoles, scouts are already paying close attention to the defensive backfield to see which young athlete is next in line to make a jump to the pros. It's easy to fall in love with Williams' game and potential. Measuring 6-0, 196 pounds, the standout junior possesses the length, athleticism and speed to challenge elite receivers in press coverage. Additionally, Williams shows the versatility to play in the slot, as a nickel corner in sub packages. With that kind of flexibility coveted at a premium at the next level, Williams' name is already circled in red in scouts' notebooks around the league.
3. Landon Collins, Alabama
The safety position has grown in prominence in the NFL, with more teams looking for game-changers between the hashes. Coaches are searching for safeties capable of making plays on the ball or delivering bone-jarring hits down the middle. Collins qualifies on both accounts, as an active safety with outstanding instincts and awareness. He has a knack for making plays on the ball, but is also a forceful hitter in the hole. With scouts also aware of his superb football IQ and natural instincts, Collins has all of the ingredients needed to be a difference maker in the middle of field.
Defensive coaches love players capable of wearing several hats in the secondary because it allows defensive coordinators to be flexible with their respective game plans. Mills is an elite cover corner capable of blanketing receivers in press-man, but his start in the Outback Bowl at safety has scouts intrigued by the prospect of using him as a hybrid defender in nickel packages down the road. While his size (6-0, 185) might prevent him from playing in the deep middle at the next level, Mills' versatility will earn him high marks from evaluators looking for a plug-and-play defensive back in a few seasons.
Take a look at the top 10 players from Michigan State to play in the NFL.
5. Trae Waynes, Michigan State
The boundary-corner position is reserved for the Spartans' top cover guy, so it takes a special player to man the spot in the "No Fly Zone." Waynes appears to be up to the task after totaling 3 interceptions and 5 pass breakups as a sophomore. While those numbers don't jump off the stat sheet at first glance, a long, hard look at Waynes' tape suggests he is a rangy cover man with the skills to thrive against elite receivers on the edge. Measuring 6-1, 183 pounds with long arms, Waynes excels at disrupting routes in press-man coverage. He funnels receivers to the sideline, while keeping ideal position down the field. Although Waynes occasionally surrenders a deep ball, his ability to bounce back and blanket receivers without fear speaks volumes about his game and mental toughness.
It's been a while since USC produced an elite defensive back, but Shaw could change that perception in the NFL scouting community. The redshirt senior has been a solid playmaker in the back end, with six interceptions and 13 deflections in 21 starts. As a versatile defender with experience at cornerback and safety, Shaw is an instinctive ball hawk with terrific instincts, awareness and recognition. He aggressively jumps routes in his area, yet is rarely fooled on double moves on the perimeter. Shaw understands when to gamble, which allows him to make a number of plays on the ball despite playing in "off" coverage on most downs. Teams looking for Cover 2 corners with impressive ball skills will give Shaw high marks for his overall game and potential at the next level.
7. Doran Grant, Ohio State
NFL coaches and scouts are routinely smitten with players displaying explosive speed, quickness and athleticism. Most evaluators believe those physical characteristics are essential to playing at a high level in the pros, which is why "testers" fly up the charts during the pre-draft process. Grant is one of the most dynamic athletes in college football, with a game that's beginning to round into form. If he continues to make strides in man coverage throughout his senior campaign, Grant could enjoy a meteoric rise up the charts this fall.
8. Kurtis Drummond, Michigan State
Smart, fast and physical are the traits that coach John Fox used to covet in defensive backs when I worked as a scout for the Carolina Panthers in the mid-2000s. Those are still the characteristics that I desire when I evaluate defenders for NFL Media, which is why Drummond is firmly entrenched on this list as a standout safety with strong instincts, awareness and ball skills. Drummond has totaled 161 tackles, 8 interceptions and 10 pass breakups in 39 career games. Most importantly, he is a menacing presence in the middle of the field, with a penchant for delivering bone-jarring hits on receivers running down the seams. With intimidation and turnovers playing key roles in determining the outcome of a game, Drummond is the ideal safety to place in an aggressive scheme at the next level.
Take a look at the cheerleaders of college football in action during the 2013 season.
9. Anthony Harris, Virginia
There is something about a player who creates turnovers that makes scouts pay attention when conducting film study in meeting rooms. Evaluators will circle the names of ball hawks in their notebooks to remind coaches and general managers that certain prospects are potential game changers at the next level. Based on his production and spectacular play, Harris is squarely in the cross hairs of scouts looking for an impact player in the middle of the field. The Virginia standout led the nation last season with 8 interceptions, which is certainly an impressive number for a defender playing on a team that rarely held a lead. If Harris can display better physicality and toughness as a deep-middle defender, he can solidify his status as a top prospect at the position.
10. Ronald Darby, Florida State
I've already discussed the pipeline to the pros from Florida State, so it shouldn't surprise observers that the Seminoles have a pair of young defensive backs dotting the list. Darby claimed ACC Defensive Player of the Year honors as a true freshman -- he cemented his status as one of the top cover corners in college football with a strong sophomore campaign that saw him blanket top receivers with little assistance from safeties. Given the lack of "shutdown" corners in the game, the fact that Darby thrives in a man-heavy scheme will make him an intriguing candidate to track this fall.