Comedian/Actor/Human Tom Wilson received the role of a lifetime when he was pegged to play Biff in the "Back to the Future" movies. (Ask your parents about them. The movies are legendary; you should go into the attic to see if there are any VHS copies around. And then ask your parents what a VHS is.) But Wilson has spent most of his adult life answering questions about the movie. In fact, he's hilariously covered it in song right here.
Funny, right? A quick aside, if you ever get the chance to see Tom Wilson live, you must do it. He's one of my top-five favorite standups. But moving on, I can commiserate with my friend here on a much (much, MUCH) smaller scale because I'm often asked about sleepers wherever I go. Grabbing a burrito at Miguel's Jr, waiting in line for the Dragon Swing at Knott's Berry Farm, and even walking into the restroom here at work. Oh and word to the wise, I'm not a bathroom talker. I don't go for the practice much. Even when I ran into RoGo (Roger Goodell) himself in the bathroom, mum is the word. (And don't get me started on guys who take calls from the can. Never appropriate in polite society.)
But seriously, I answer sleeper questions all year. And I love it. I really do. If you see me at Buffalo Wild Wings or the Knothole Club at Angel Stadium, just ask. I mean, if that's the toughest part of my life, I'm a pretty blessed man. So ask away.
The only problem is, sometimes things change. When we started this Rank's 11 offseason edition, Montee Ball and Dre Ellington seemed like some pretty good options. But now people want to draft Ball in the first round. Bruce Arians wants to get Ellington 30 touches a game (hilarious). So we might need to make a few adjustments.
So with that in mind, here are some sleepers to target. We'll see some of the same names as before, but a few updates. In fact, we'll start in Denver and Arizona for some guys who are going to be great sleeper candidates for the coming year.
I reserve the right to end up changing my mind again.
C.J. Anderson, RB, Denver Broncos: Forgive me if I don't go crazy for Montee Ball who was the heir apparent last year. And then he fumbled the job to Knowshon Moreno. I'm not sure if Ball is going to tote the green ball like Peyton Manning is this year, but he's going to need to hold on to the rock to be effective. But Ball is currently No. 1 and Anderson will likely enter the season as the No. 2 back. He showed a lot of promise in preseason last year, and he had some spells during the season, most notably against the Patriots and Redskins when Ball was benched. I really liked this guy when he played at Cal and feel like he could become the go-to guy in Denver.
Stepfan Taylor, RB, Arizona Cardinals: Let's stick with running backs from the Pac-12 I loved in college. The Cardinals didn't draft a running back this year, and that leads many to believe the team is head-over-heels for Ellington. But not going running back really shows a huge leap of faith for Taylor because Ellington isn't built for a regular-season pounding and has had some trouble with injuries. If you're inclined to make a move for Ellington early (don't be that guy), make sure you grab Taylor. Actually, just pick him anyway.
Bishop Sankey, RB, Tennessee Titans: How about a Pac-12 running back I didn't really care for at Washington? Just kidding. To be honest, I saw Sankey get lit up and miss a block against Oregon and thought he wasn't going to be able to handle pass protection in the pros. But our super scout Daniel Jeremiah assured me this will not be an issue, and he will be able to make the transition to the league. So there is nothing standing in his way now. Shonn Greene, you ask? Again, there is nothing standing in his way now. He's going to be the lead running back for the Titans, and sometimes opportunity supersedes all. Oh, and if you can go on YouTube and watch him against BYU, you will be impressed. Actually, I'll find the link for you, hold on. (Looking) Oh, here it is.
Marion Grice, RB, San Diego Chargers: Hahaha, I'm just kidding. I just figured I would throw in another Pac-12 guy. I mean, I might as well add Jordon James to the mix, too. Though, he's a few years away. But don't draft Grice. He's got some folks ahead of him with Ryan Mathews, Donald Brown and Danny Woodhead, so he might not make much of an impact this season. But he's a rather decent dynasty-league option.
 2014 FANTASY FOOTBALL SLEEPERS 

Robert Woods, WR, Buffalo Bills: Now it's a Pac-12 party. Love Bobby Woods in Buffalo. He had a pretty good rookie season for the Bills. And the draft pick of Sammy Watkins only increases Woods' value. Defensive coordinators will have to game-plan for Watkins' speed, which will open things up for Woods, who is much more accomplished as a route runner. Woods finished the season strong and will continue to build on this. Of course, some cynics will point at EJ Manuel as the downfall of Woods' production. But let me ask you this question, who was Josh Gordon's quarterback last year? That's what I thought.
Toby Gerhart, RB, Jacksonville Jaguars: I know, it's getting ridiculous with the Pac-12 love. But this goes way back to his days at Norco High School. My rival high school, and yet, I still love Toby. So does Gus Bradley, who sees a lot of Marshawn Lynch in Gerhart. (And yeah, don't look up where Lynch went to school.) But Gerhart is one of those RB1 talents who just landed in a bad spot, production-wise as he waited behind Adrian Peterson. Look for Gerhart to have similar production to what Michael Turner did during his first year in Atlanta after he toiled behind LaDainian Tomlinson.
And if you want to get technical, Toby did play in the Pac-10, not the Pac-12. But let's move on ... to another one of my college passions, Texas A&M. If you've followed my work or my Twitter feed, you might have thought I was an Aggies fan for the past couple of years. But I just liked to watch the team play. So here are my guys from College Station.
Christine Michael, RB, Seattle Seahawks: Starter Marshawn Lynch had more than 400 touches on the way to the championship, so it's going to be hard to put up another great season. Or at least it would be a statistical anomaly. So enter Michael, who coach Pete Carroll has raved about during the offseason. Michael had a slow start last year and often found himself behind Bobby Turbin. But Michael will be the No. 2 runner and he's going to get a bigger share of the offense this year. I'd be worried if I had Lynch (try to peddle him), and I would take Michael late.
Mike Evans, WR, Tampa Bay Buccaneers: Evans was one of my favorite players in college football the past couple of years. He's the prototype receiver with the size, speed and ability to catch the ball at its highest point. And while rookie receivers don't tend to make a huge impact, Evans is in the perfect situation opposite Vincent Jackson. With the veteran receiver due to see double-coverage and shutdown corners, Evans will benefit. QB Josh McCown showed last year he can reach his long receivers. I expect Keenan Allen-like production from Evans.
Follow Adam Rank on NFL.com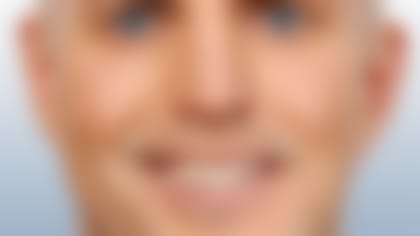 With his irreverent takes, Adam Rank writes about all things football -- real and fantasy. Keep up with his latest spin. More ...
Johnny Manziel, QB, Cleveland Browns: And now it's time for my favorite college football player of the past couple of years. I haven't had this much fun watching a college quarterback since Jake Plummer was at Arizona State. Let's just hope Johnny Football has a more productive NFL career. And he will. He's got the perfect offensive coordinator in Kyle Shanahan who knows how to tailor an offense to a quarterback's talent. Look at RGIII's rookie season as evidence. Even though he's not the opening day starter, Manziel is worth keeping an eye on if he assumes the role midseason.
And now, here are two guys who didn't play in the Pac-12, nor did they play at Texas A&M.
Khiry Robinson, RB, New Orleans Saints: Although, Robinson did play at West Texas A&M. I'm almost trolling all of you at this point, right? But if you watch the Saints in the playoffs last year, you had to be impressed by Robinson. Well, you didn't have to be impressed, but you should have been. Bill Parcells was impressed enough to call Sean Payton to tell him he had the next Curtis Martin on his hands. Normally, I hate such comparisons. But it's the Big Tuna. So I will allow it. And seriously, go back and watch him against the Seahawks in particular. Do it now!
Terrance West, RB, Cleveland Browns. To hear Jeremiah or Charley Casserly tell it, the Browns got the steal of the second day of the 2014 NFL Draft when they selected this young man out of Towson. West is a big back with great feet who can also catch. The only roadblock is Ben Tate. But remember, Kyle Shanahan isn't afraid to forgo the incumbent. Something he did when he was offensive coordinator in Washington and went with Freddy Morris two years ago. West will have that type of production this year.